New rumors about the launch of the first foldable smartphone from Samsung in 2017
We already have talked of foldable devices, thanks to the many patents made from various companies in this field; one of the most active names is certainly Samsung, which for years seems to be engaged in the development of a device with constructive characteristics quite new.
Today comes a new report according to which Samsung would be ready to launch a first foldable smartphone in 2017. According ETNews, in fact, Samsung would come to the conclusion of a development process that lasted three years; the device -which now would be known with the name of Project Valley- should offer the user the possibility of exploiting two different dimensions of the display: 5 inches (when folded) and 7 inches (when open).
The technology chosen for the panel would be OLED, which allows to realize the display able to bend; it seems, moreover, that Samsung would have already succeeded in creating the first prototype. There are still many doubts regarding this novelty, and until the same Samsung confirms the information we should be cautious.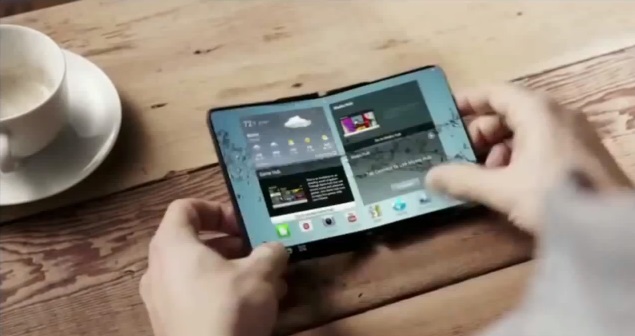 The form factor of the smartphone will include a flexible OLED display that can bend in half (as a wallet) so as to reduce the overall dimensions when not in use. According to allegations made by the director of Samsung Display Division, the realization of the prototype it would go well: "the development of foldable OLED is taking place according to our plan. We are planning on mass-production and release of this product by discussing with our partners."
Obviously the foldable smartphone in question will appear only on display as part collapsible, as the rest of the hardware will be contained within a fixed shell and not foldable. This does not mean that Samsung will be the first manufacturer in the world to make a flexible smartphone that will be marketed in any market. According to new rumors, and after all the confirmation of previous rumors, the Korean giant will launch the first foldable smartphone in the course of 2017.
New rumors about the launch of the first foldable smartphone from Samsung in 2017