Samsung patented a new smartphone with foldable display
Samsung is one of the many manufacturers that deluge the Trademark Office and the US Patent Office (USPTO) with dozens and dozens of different ideas about devices with flexible displays.
Most of these devices, if not virtually all, will never see the light, considering maybe only exceptions as Samsung Galaxy Round and the new Samsung Galaxy S7 Edge. The South Korean giant has now registered a new patent for a smartphone equipped with a flexible and fluent display. Basically the display is mounted on the body of the phone and can be slid upwards to reveal a part that remains coiled in the smartphone when not in use.
The idea itself is not new, at least as a concept, since devices with display that slides up are on the market for quite some time. What is interesting, however, is the fact that the display may be extracted according to the needs, allowing us to obtain a device with a display including, for example, between 4 and 6 inches, to be expanded if necessary. As always, however, it is a patent that may never see the light and remain only as a beautiful hypothesis.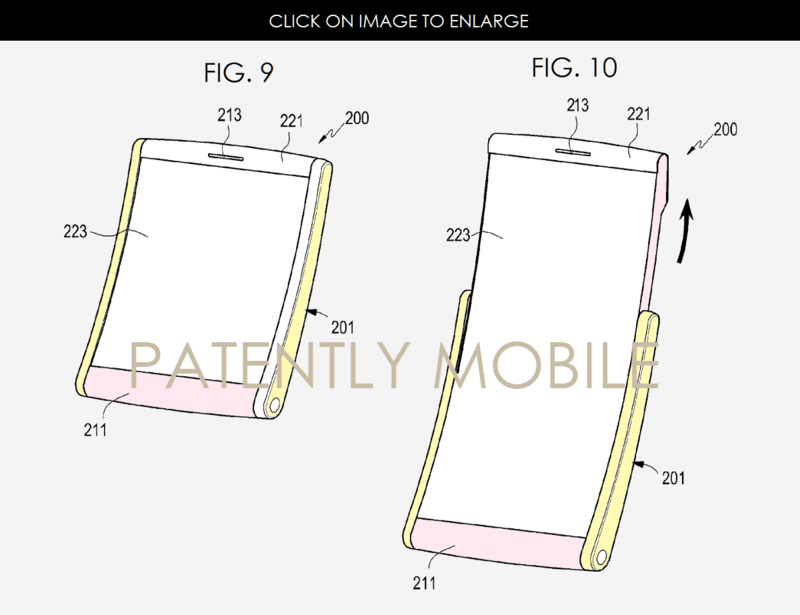 Among the companies most affected and involved in the development of this technology are Samsung, which has already shown the fruits of its labor in more than one situation. Recently, however, we found that has patented a new smartphone that not only makes use of flexible displays, but implementing them in a whole new concept. As you can see, in fact, this is a smartphone with a flexible and rollable display.
In particular, flexing the display and pulling it out of its housing, we will get to have a smartphone a little difeference from what we know it now, but with the advantage of having a much smaller overall size, especially when the display is not extracted. Since at the time of a patent, we do not know exactly when Samsung decides to market something. However, some past rumors indicate the end of 2016 as a period of onset of the first smartphone with flexible display by the South Korean giant.
Samsung patented a new smartphone with foldable display