Motorola Moto G 2015 and Moto X Sport appear with a possible release date in August
It seems that we already are finally about to get new smartphones from Motorola. We speak mainly of the Motorola Moto G 2015, and one that we did not know, the Motorola Moto X Sport. They have appeared in a online store with some of their features and a possible release date, which would be for the month of August, according to pisapapeles.
As you can see by the image displayed after this paragraph (in spanish), this has been captured in a screen, but photographs of each of the phones are from previous versions. However, the relevant data are that they are both movable. In the case of Motorola Moto G 2015 what we see is that once again it will have a 5-inch screen. There is no mention of the resolution, but so far there we expect to have one with high definition, short of full HD. Also, it would have improved camera with 13 megapixel for the main unit, and a front camera of 5 megapixels. All with a Qualcomm Snapdragon 410 quad-core processor at 1.4 GHz. The truth is that we hope that either its features finally are better than these, or at least we hope this smartphone to be significantly cheaper than we have yet seen. Release date would be August.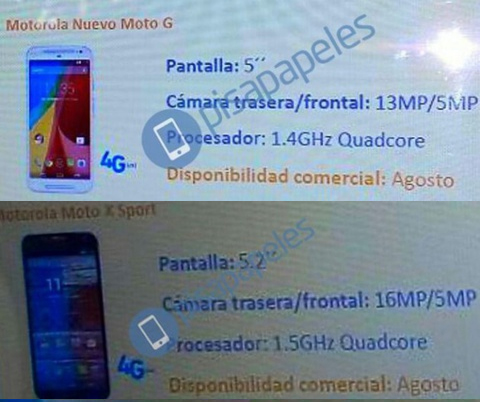 The case of the Motorola Moto X Sport is also funny, because so far we had not heard of this device. It also will feature a 5.2-inch screen, such as the current Motorola Moto X, a 16-megapixel main camera and a front camera of 5 megapixels.
However, about the processor we would know it will have four cores at 1.5 GHz, but may be Qualcomm Snapdragon 410, Snapdragon Qualcomm 615, or even MediaTek processor. These features are typical of a devices that is not high-end. It also may be waterproof and shockproof, but also it could include lower features It is expected to arrive in August too.
Motorola Moto G 2015 and Moto X Sport appear with a possible release date in August