Third-generation Motorola Moto G seen in a major online store
Motorola, one of the most beloved companies by users are getting even better since they opted for the Motorola Moto G as a mid-range model. A smartphone that showed that functionality, decent features and good price could go perfectly hand in hand.
It is true that the American company was not in that sector initially, launching the Motorola Moto X, a device born to compete with the top end of that time. Then came the Motorola Moto E, and the evolution of these three devices, the Moto G 2014, Moto X 2014 and the new Moto E, all with very good review and acceptance.
But Motorola can not live in the past, and apparently seen, with an increasing competition in the market, Motorola must do things very well in this 2015 if they want to continue selling phones. The other day possible specifications of the third-generation Motorola Moto X were seen, which if true, could result in a very interesting phone if the price is not very high.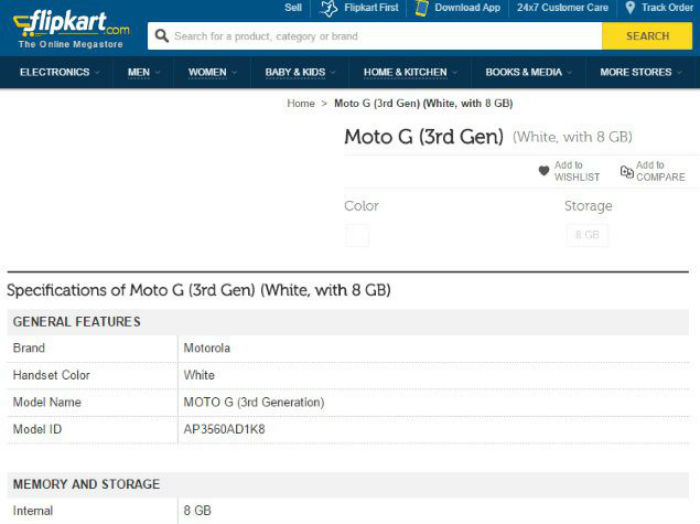 Today is the turn of the third-generation Motorola Moto G, because the average range also has its place in Android. Flipkart, one of the most reputable online stores on the Internet, has created its own place to sell the Motorola Moto G (3rd gen), noticing that it could reach the market sooner than we thought, for example this summer.
As shown in the picture, it is a new device, because the model number does not match the previous Moto G. Rumor being considered, this new smartphone would have a 64-bit Snapdragon 610 processor at 1.7 GHz, with 8GB of storage, 2GB of RAM, a screen of 5 or 5.2 inches, FHD and, of course, LTE networks.
For now we can only wait for the final movement of Motorola, if what Flipkart showed has not been a mistake. On the other hand, we hope that, although this new third generation Motorola Moto G brings these specifications, also keeps what it has always been so important in the middle range of Motorola, an affordable price for the user.
Third-generation Motorola Moto G seen in a major online store