How to do a factory data reset in Windows Phone
How to do a factory data reset in Windows Phone
Over time we accumulate a lot of information on our mobile devices and sometimes we need to remove it completely and leave the phone as it was at shipping. Sometimes you need to format the phone due to some kind of malfunction, but sometimes the reason for the factory data reset is more practical and it is related to privacy.
If we want to give or sell our phone, we don't want our photos, videos and other files available to the new user's terminal. In addition, there are passwords, such as Wi-Fi's network, which can also be stored on the phone.
However, all this can be removed with a factory data reset.
How to do a factory data reset
If we do a factory data reset or restore the phone to its default configuration, we will leave the device in the same state it was in when it left the factory. Formatting the smartphone will delete all personal files, media files, downloaded applications and stored passwords.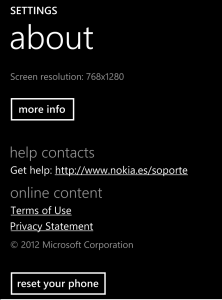 However, this doesn't eliminate the data stored on the SD card, which should be formatted separately. If we keep the current configuration, it is advisable to make a backup and save it, for example, on the Microsoft account in the cloud.
To make a factory data reset, we have to go to "About", in the application list under the "Settings" menu. Upon confirmation, we will proceed to restore the system, a process that will last a few minutes.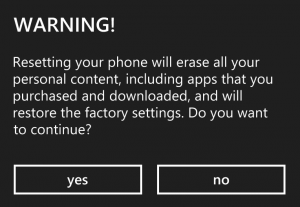 How to format the SD card
It's simple to do a full format of the SD card. Once we have backed up the information we want to save from the card, we can proceed to do a format that will eliminate all the information we have stored.
To format the card, we have to enter into the "Storage" option that we can find in the "Setup" menu. Once there, we can see the information about the internal and external storage on our phone. If we tab on the SD card, we will find the option to do the formatting.