Google presents the new Android TV with Google Assistant
Android TV is the declination of the mobile operating system aimed at televisions and set-top boxes (such as Nexus Player and NVIDIA SHIELD TV), a platform specifically designed to mix interaction with multimedia applications and content in the living room. Which also sharpens the eye to video games. Today, the Mountain View group announces a restyling that affects the main screen and Google Assistant.
The new interface had already been seen during the last week at the I/O 2017 event in San Francisco. Today, however, comes the official presentation, with a blog post intended to the developer community.
The most interesting novelties are a structured layout to facilitate quick access to the most interesting content based on your personal taste (from streaming music to Netflix catalog movies) and the integration of Google Assistant with its artificial intelligence. This service helps you find what you want in an even simpler way than in the past, taking advantage of the convenience of voice commands.
The intent of Android TV is just to "masquerade" like a classic TV with a few channels for each application to break down the main content. The preview of a TV series, for example, is dynamic and is activated by positioning over the cursor.
Also, you will be able to choose which types of channels to display on the Home screen, to better customize your Android TV. As you can see from the image, there is also a full Google style search bar, alongside settings and watch. Interesting side icons, which feature movies, TV series or the like depending on your preferences (Watch Next) or depending on the trends (Recommended).
Android TV + Google Assistant = Major Update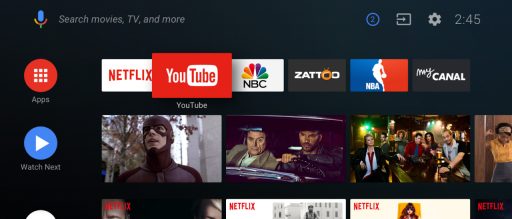 To test the new Home screen immediately, you can install the Android O Developer Preview on Nexus Player. Alternatively, you will receive it by an automatic update by the end of the year. The same timeline for Google Assistant arrival, which will only be available in the United States for all Android TVs.
We do not have a precise date, but Google should launch it on Android TV by that time. The options that Assistant will include will be multiple, from simple control over multimedia playback to the choice of content suited to your profile. Google Assistant will not be the prerogative of the new Android O, but will arrive (at least in the US) also on Marshmallow and Nougat operating system versions.