Cortana finally comes to Android with public beta
Despite the initial promise of Cortana ready for July, better late than wrong, and in a brief note Microsoft announced the arrival of Cortana, the personal assistant, to Android in the form of public beta that you can install from Google Play.
It is not as powerful as Windows desktop or Windows mobile, or as capable as Google Now, but if you use often Microsoft services, or do not have access to the suite of Google, Cortana is a very interesting partner for basic tasks as calendar and messaging, good to manage your alarms or find information quickly. One of the most useful parts, interacting directly with 'Hey Cortana' is disabled in Android at the moment, but Microsoft promises to improve rapidly adding new features.
To download the public beta of Cortana Android, you must have a Google account in the United States, and enter the link of the public beta. Once there, you must click on 'become a beta tester' so you can download the file Cortana for Android from Google Play store. Cortana for Android is only available for users in the United States at the moment, but Microsoft expected to be available in other markets in the near future, but did not give many details about it.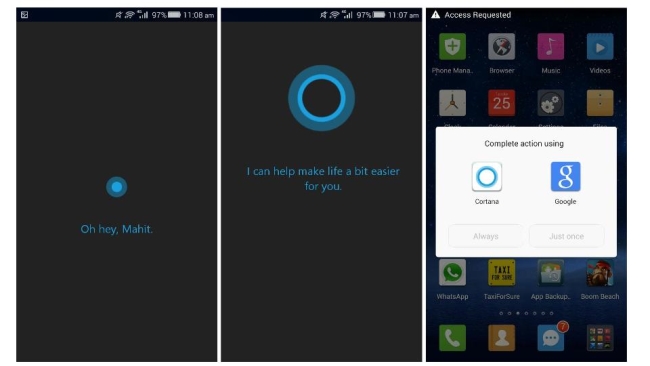 Microsoft has been working on a Cortana app for Android for a while. Now, it's finally ready for prime time. Or at least beta time. The company has released a beta version of the app to the Google Play Store for the adventurous to try out.
On the other hand, recently another product competition Microsoft wants to put Google Now. The latest update of Bing for Android lets have similar recommendations that we will see in Now on Tap, a feature of Google Now will come with Android 6.0 Marshmallow. After setting it, the Finder application Microsoft give suggestions according to the context, both places or actions.
Cortana finally comes to Android with public beta