U Watch U Terra Review
U Watch U Terra is a shockproof, dustproof and waterproof (IP68) smartwatch that brings GearBest, for only $68.99 using the following coupon code: GBTERRA. We find a very nice watch that perfectly complements our smartphone. You can purchase it in three different colors: orange, black and blue.
U Watch U Terra has the Nucleus OS, the toolkit created by the Embedded Systems Division of Mentor Graphics, to make it fully compatible with Android 4.3 and iOS 6 onwards. The design is elegant and colorful, betting on aluminum materials and technical specifications certainly attractive. As we said, it is waterproof to 3 meters (IP68), dustproof and shockproof. Prevents dirt, it is resistant to a 10 meter drop, safe landing and includes an ergonomic design to protect from any possible coup.
We have a high-intensity explosión-proof glass mounted on a 1.6 inch OLED touch screen with IPS HD resolution of 240 x 240 pixels. Inside we find a battery of 300 mAh, with which it will assure a range of up to 8 days no charging. It also features 64 MB of RAM and MTK250 CPU at 108MHz.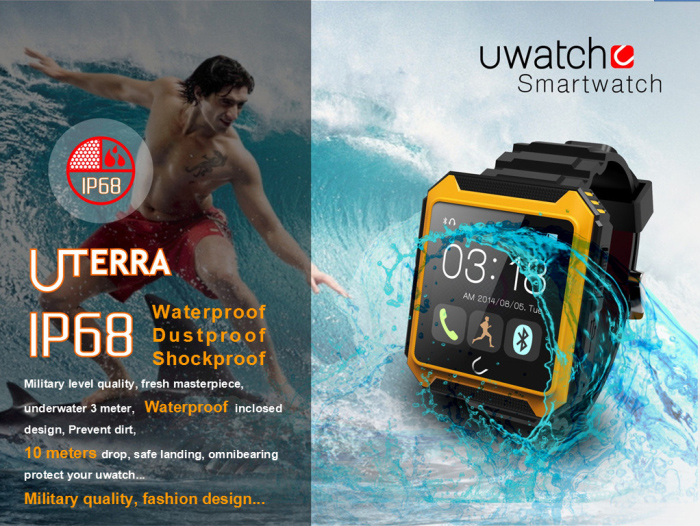 On the other hand, the U Watch U Terra connects to your smartphone via Bluetooth in version 4.0, in order to receive notifications of our installed services, calls, messages, control music, among many other options as time sync, call history, SMS and MMS support, music player, alarm or remote camera. In addition, you can use your smartphone functions through the watch, and even use it as a handsfree to answer calls. As if that were not enough, you can install applications dedicated to collecting information from your physical activity, which also features accelerometer, gyroscope, stopwatch, compass (an important tool of navigation, It is suitable for many occasions, more accurate and more stable that you can imagine), sleep monitor, fat-burning and pedometer.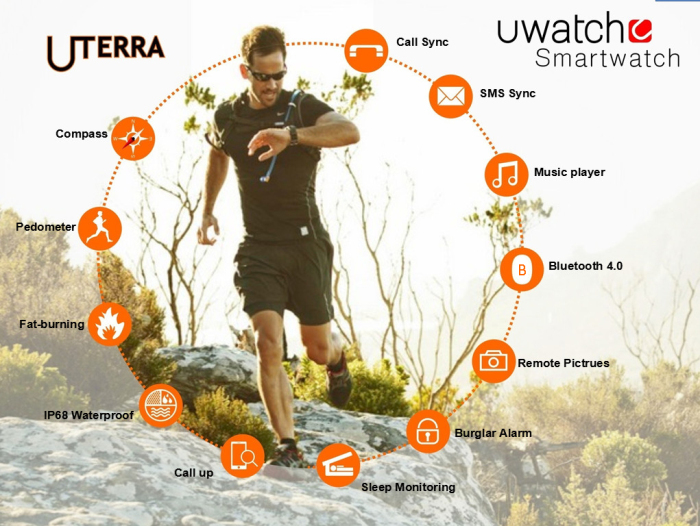 Measuring 5.05 x 4.4 x 1.14 cm (1.98 x 1.73 x 0.45 inches ) and weights 47 g, U Watch U Terra gives the overall appearance of a large and robust watch, as fashion and taste of people currently in the watches design order. It gives a good impression of solidity to all. In short, it is a very useful tool if you're an athlete or love practicing any kind of sport.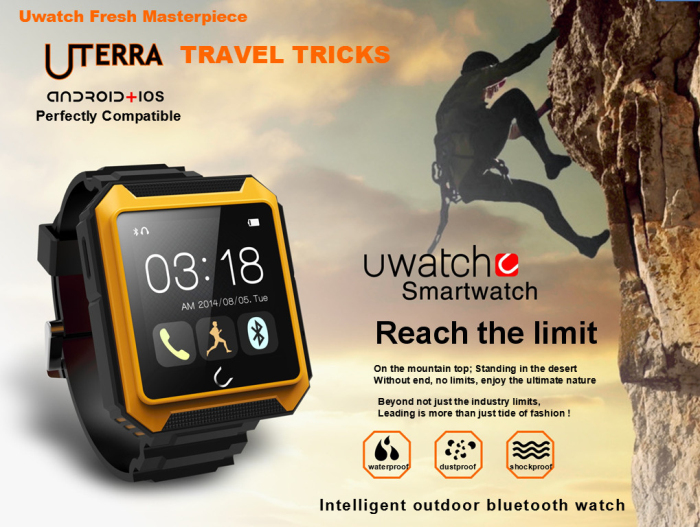 U Watch U Terra Review