Kingsing S2 review. Best LG G3 Clone
Kingsing S2 is a smartphone lauched by the relatively unknown company Kingsing. It comes with an interesting proposal, inspired by the design of the LG G3. Kingsing S2 is a good clone, you could classify it as a mini version of the G3, because this smartphone combines good specifications with an interesting price.
https://www.youtube.com/watch?v=fOmLOaUbv-U
Package
The package contents several items besides the smartphone. The product comes in a package protective of 92x168x36 mm and 310g. Inside, you can find the 200mAh battery, the charger, an USB cable (which can be used either to charge the phone or to exchange data with a PC) and a user manual.
Design

The design of this Kingsing S2, physically, is all about a model that has been "inspired" by the LG G3. Highlights a 5-inch display with qHD resolution (960 × 540 pixels), enjoying a framework of just 1.6 mm. Definitely a good cover letter for a low-cost model, complete with a really thin 6.9 mm body.
From the screen itself, and simply pressing its surface, we can lock or unlock the phone. It also has a motion sensor, which allows us to simulate a motion detector.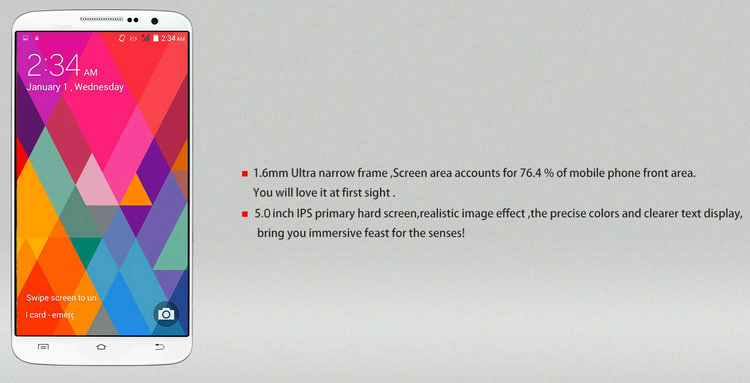 Performance
The S2 has a quad-core processor MTK MT6582, 1.3GHz, and is accompanied by a 1 gigabyte of RAM and an 8 gigabyte of internal storage and GPU Mali-400. What means that it is a powerful processor, even though with the medium screen resolution doesn't require much power to run, able to provide a good performance for a conventional use of the device.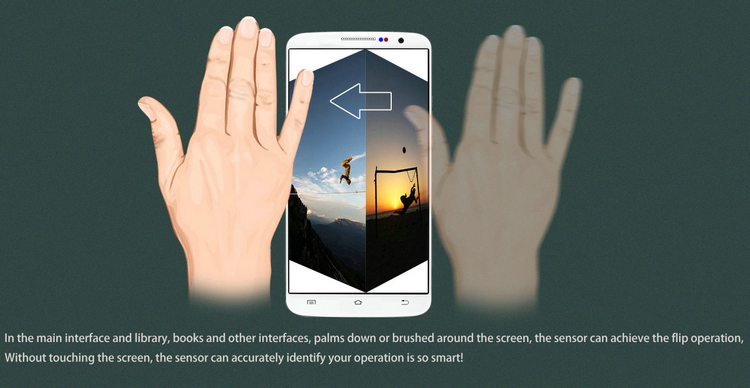 The 8 GB of internal memory are expandable up using a microSD card. Finally, the device comes with the Android OS version 4.4.
Cameras
The main camera is 8 megapixel, the S2 has a built in heart rate sensor, it is installed with the camera, power buttons and volume. The secondary camera is 2 megapixel. As described, the Kingsing S2 also has a system that indicates the heart rate, and has the function of "eye tracking". This means that the phone can be controled using gestures and let the phone to know when the user has their eyes on the screen, and when not.
Network and connectivity
The Kingsing S2 supports dual sims dual standby (micro sim1 and normal sim2, 3G and GSM on 850/900/1800/1900MHz and WCDMA on WCDMA 850/2100MHz. The Wi-Fi connection uses 802.11 b/g/n and it includes a GPS sensor, Bluetooth connectivity and FM radio.

Additional Features
The software is Multilanguage, available in english, spanish, portuguese (Brazil), portuguese (Portugal), italian, german, dutch, french, polish, romanian, turkish, russian, arabic, indonesian, malay, thai, vietnamese, hindi, hebrew, simplified chinese and traditional chinese. The device also comes with Gravity Sensor, Browser, MMS, WAP, is multi-touch and includes other main features as narrow bezel, air gestures (included air call-accept), double click to turn on/off display, hold volume button to quick launch camera and MTK hotknot.
The device is available unlocked for worldwide use. You can purchase it for $113.99 (€86.37) from 1949deal.com. Free Shipping.
BIG PROMOTION
1949deal is giving some news to Hexamob review readers to get this awesome Android phone with a cheap price and with a lot of great gifts that will be sent to their customers like the leather case, screen protector, and free Kingsing W8 for one of the first ten customers. This big promotion will begins on September 19, and will last till December 29Kingsing S2 for just $113.99 from 1949deal.com, in white, and black.
Kingsing S2 review. Best LG G3 Clone