Kingsing S2 and Kingsing W8 Giveaway Promotion Review
Kingsing S2 and Kingsing W8 Giveaway Promotion Review
We have been inform about a special offer from the web 1949deal. It is a large giveaway promotion between Kingsing S2 and Kingsing W8. Now they both enjoy the lowest price, and the customers also can get free gifts if they buy them. You can find more information here, in 1949deal.com.
Here are the details of the phones and the promotion:
Kingsing S2
Kingsing S2 is a smartphone lauched by the relatively unknown company Kingsing. It comes with an interesting proposal, inspired by the design of the LG G3. Kingsing S2 is a good clone, you could classify it as a mini version of the G3, because this smartphone combines good specifications with an interesting price.
The package contents several items besides the smartphone. The product comes in a package protective of 92x168x36 mm and 310g. Inside, you can find the 2000mAh battery, the charger, an USB cable (which can be used either to charge the phone or to exchange data with a PC) and a user manual.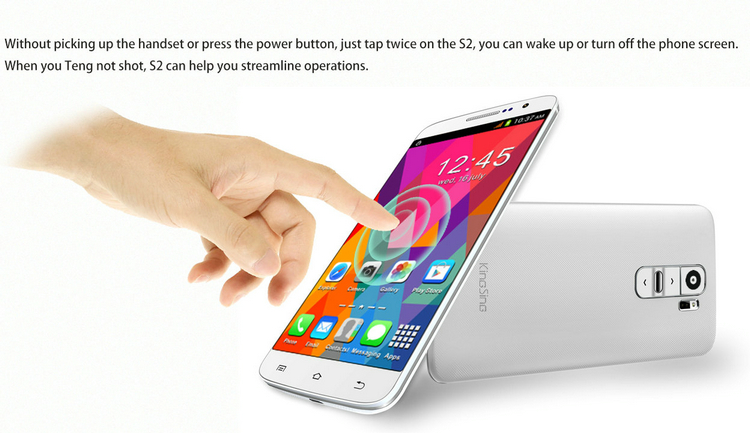 The design of this Kingsing S2, physically, is all about a model that has been "inspired" by the LG G3. Highlights a 5-inch display with qHD resolution (960 × 540 pixels), enjoying a framework of just 1.6 mm. Definitely a good cover letter for a low-cost model, complete with a really thin 6.9 mm body.
From the screen itself, and simply pressing its surface, we can lock or unlock the phone. It also has a motion sensor, which allows us to simulate a motion detector.
There is no doubt that offers many improvements over its predecessor; it has a quad-core processor MTK MT6582, 1.3GHz, and is accompanied by a 1 gigabyte of RAM and an 8 gigabyte of internal storage and GPU Mali-400. What means that it is a powerful processor, even though with the medium screen resolution doesn't require much power to run, able to provide a good performance for a conventional use of the device. You can find the Kingsing S2 in 1949deal.com for just $109.99, in white, and black. Free Shipping.

Dimensions: 92 x 168 x 36 mm
Weight: 310 g (with battery)
SoC: MediaTek MT6582
CPU: ARM Cortex-A7, 1300 MHz, Cores: 4
GPU: ARM Mali-400 MP2, 500 MHz, Cores: 2
RAM: 1 GB, 533 MHz
Storage: 8 GB
Memory cards: microSD
Display: 5 in, qHD, 960 x 540 pixels
Battery: 2000 mAh, Li-Ion
OS: Android 4.4 KitKat
Camera: 8 megapixel, 2 megapixel
SIM card: Micro-SIM, Dual-SIM, SIM
Wi-Fi: b, g, n, Wi-Fi Direct
USB: 2.0, Micro USB
Bluetooth: 4.0
Positioning: GPS
Kingsing W8
Kingsing W8 is tablet with 8 inch IPS display on a 1280 x 800 pixels powered by the quad-core Intel Bay Trail-T at 1.80 GHz joined to the integrated graphics Intel HD, 1GB of RAM, 16GB of internal storage expandable and a front/rear camera of 2 megapixel.
As if that were not enough, the characteristics of the Kingsing W8 continue to integrate 3G connectivity, WiFi 802.11 b / g / n, Bluetooth 4.0, stereo speakers, microUSB connector, output screen as microHDMI, a battery of 4500 mAh (up to 8 hours of battery life) in a chassis 10 mm thick, supports Flash 11 and HTML 5. No doubt we have a very competitive tablet.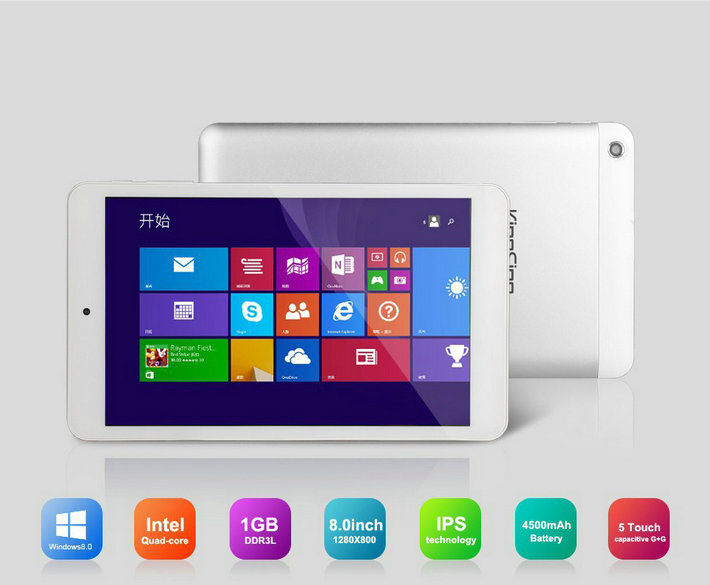 The tablet Kingsing W8 is the Windows OS best choice when one wants to buy a cheap tablet, because the only reasonable option we had until today was Android. But Microsoft does not like it, and has already announced the launch of Windows 8.1 with Bing, a version that allows them to create more affordable devices. Supports devices with less memory and storage, and manufacturers can include it at no cost, at least on machines with less than 9 inches in diagonal screen. Another characteristic of this processor is that it is created using a 28-nanometer technology and Cortex A7, so consumption is quite low.
This tablet is clearly not designed to handle powerful games, but for the most common functions like browsing the web, use different chats like Skype, watch videos, etc, is a marvel. Besides the Kingsing W8 can connect to any TV, so we can convert our tablet into a portable media center, a very interesting and very useful option. But that's not all, this tablet can also add a Bluetooth keyboard and mouse to turn it into a makeshift mini PC. So if what you want is a cheap tablet that meets almost any task that acts as media center, the Kingsing W8 is the tablet you seek, and you can find it in 1949deal.com for only $137.99 in white. Kingsing W8 starts to presell now an it will be shipped until October 12. Free Shipping.
Dimensions: 207.5 x 122.6 x 10 mm
Weight: 380 g
SoC: Intel Baytrail-T
CPU: 1800 MHz, Cores: 4
GPU: Intel HD graphics
RAM: 1 GB of DDR3L RAM
Storage: 16GB storage +
Memory cards: SDHC/SDXC card expandability
Display: 8-inch, 800 x 1280 resolution IPS LCD with 5-point capacitive touch
Battery: 4500mAh Li-ion for 6-8 hours of usage time
OS: Windows 8.1
Camera: 2592 x 1944 pixels, 1920 x 1080 pixels, 30 fps
Wi-Fi: b, g, n, Wi-Fi Hotspot
USB: 2.0, Micro USB
Bluetooth: 4.0
Positioning: GPS, A-GPS
Giveaway Promotion
If you are looking for a phone that has most of its specifications located in the middle range but nevertheless have a very affordable price, Kingsing S2 and Kingsing W8 may be the ideal models for you. So if you like this phone, you can buy them in 1949deal.com for a price of only $109.99 and $137.99. And also, if you buy one Kingsing S2 from Sep 18 to Sep 28 (Countdown [GMT +8] Beijing Time 15:00 p.m), you will get a great tempered glass screen protector for free, also a free Kingsing S2 will belong to the first one to order, and 1949deal.com will choose one of the first 10 buyers to get Kingsing W8 for free, just by clicking on the image or the link that you have just below, with the possibility to win.