ASUS ZenFone 2 Review
ASUS ZenFone 2, easily the best Android smartphone by ASUS and one of the most anticipated smartphones of the year, comes to renew the catalog of the company with two different versions, with 4 GB of RAM and with 2 GB. It's pre-sale on Gearbest now and if you use the following coupon code, you can buy both versions for $338.42 (4 GB) and $252.66 (2 GB): ASUSZ2.
The ASUS Zenfone 2 is the continuation of what has already started in the past 2014 with ASUS ZenFone, but improving on key aspects of the smartphone. As far as appearance is concerned, there are not many differences from the previous version, although it is true that it has a better use of the front part of the phone, with a screen going from 68% to 72%. For its part, the IPS LCD display also grows until 5.5 inches and offers a FullHD pixelmaster resolution improved thanks to technology that incorporates the manufacturer. It is also made of metal in plastic leather with the addition of buttons on the back for volume control.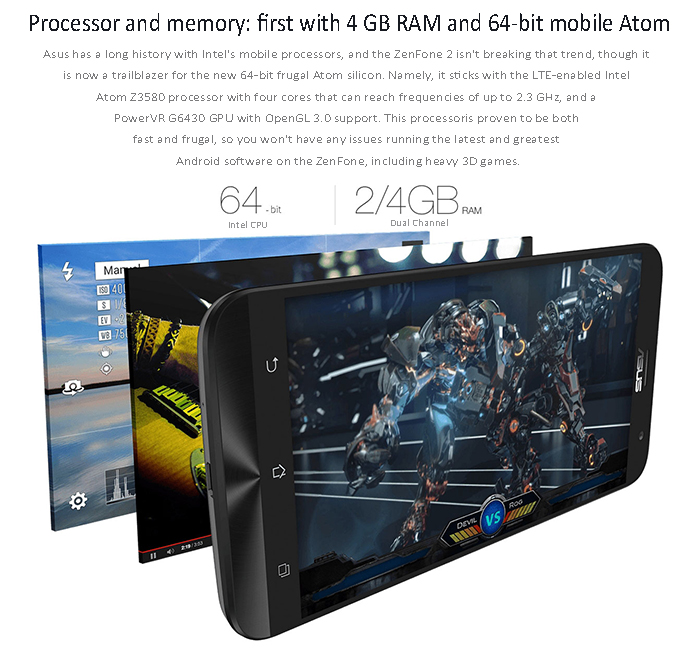 The inside of the phone also comes with important news, starting with its processor, for which again the company has had the cooperation of Intel and it is the Atom Z3580 model of 64 bits. According to ASUS own, said processor is 3.1 times faster than some Quad-Core processors from the competition. The same goes for the GPU, which would be 8.1 times faster. Moreover, as remarkable detail, note that supports LTE networks. A fluid terminal without lag on a layer of simple software which aspect is quite different from what Android offers by default.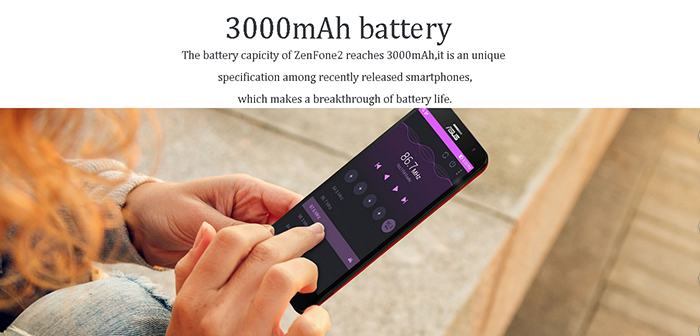 As for the details in the photographic section, the most remarkable thing is its 13 megapixels rear camera and its 5 megapixels front camera, along with ASUS technology, which has some special pixels that will capture images in low light 400% brighter. Moreover, its 3000 mAh battery should provide us with a more remarkable autonomy for the Android 5.0 Lollipop OS.

In short, this is a smartphone with 2 GB/4 GB of RAM and an Intel processor, generally more powerful than a Snapdragon 801, with a screen of 5.5 inches and the new Android OS (with layer of customization Zen UI improved). So, although some say that this is a midrange, this is only true in the price, when the rest of specifications and features show clearly a high-end smartphone.
ASUS ZenFone 2 Review