Xperia C3 smartphone designed for selfies
Xperia C3 smartphone designed for selfies
Sony has unveiled a new device specially designed to take full advantage of the selfies moments. Both hardware and software are focused on getting the best pictures and share them on the social networks. The great front camera is also an advantage in video chats, as the resolution improves considerably.
The Xperia C3 is a midrange device with a quad-core Snapdragon processor running at 1.2GHz, 1GB of RAM and 8GB of internal storage. The screen is a 5.5-inch IPS HD with BRAVIA technology, which provides a good quality from all view angles. Despite its size, it has a thickness of just 7.6 mm, and weighs 150 grams. It has a 2500 mAh battery, and thanks to the energy saving mode Battery Mode STAMINA 3.0, Sony says it can last up to 1071h in standby, keeping active the notification's system.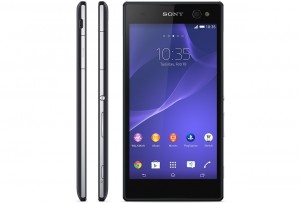 However, the main feature of this device is its front camera. It is a 5 MP wide angle camera, able to take pictures with a 80 degrees field of view. It also has a LED flash camera on the front, so we can take pictures even in low light conditions. In addition, Super Auto mode automatically sets the best conditions for acquiring images based on the ambient light, and works together with the HDR mode to ensure optimal results.
Like other terminals of the Xperia range, the rear camera comes with an 8MP Exmor RS sensor and LED flash. The SteadyShot mode permits to capture video without distortions or vibrations.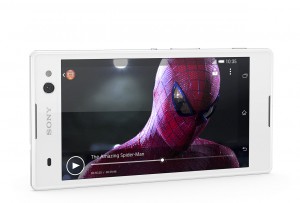 The Xperia C3 supports 4G/LTE networks up to 150 Mbps for downloading and 50 Mbps for uploading. With these speed it's easy to share images on social networks or send them to our friends.
To take full advantage of the cameras' performance, the Xperia C3 is equipped with all the usual Sony apps for the image acquisition and processing. These include the Superior Auto (which sets the conditions for acquisition based on the scene we want to capture), Portrait retouch v.2 (capable of retouching up to 2 persons per image), Timeshift burst (capture 31 images in 2 seconds) and Picture effects (to add effects to the images). In addition, Sony has also included Movie Creator, Social live, Sweep Panorama and Vine.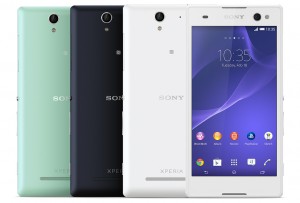 The Xperia C3 goes on sale in August. It will be launched first in China, with support for dual-SIM, and from there it'll spread to other international markets. There is no information about the price, but it will be available in 3 colors, white, black and mint.
More information at SonyMobile.