Xiaomi Power Bank of 10.000 mAh available in the coming weeks
In recent times, power banks have become quite fashionable lately, that is, external batteries that store energy and are used to recharge the battery of our devices only by connecting them to it via micro USB. There are many companies that are offering this type of accessory now, but certainly one of the most immersed in this business is Xiaomi, which already has several models of power banks and with different capacities.
But if the already offer of power banks did not convince you at all, Xiaomi has presented a new model that would be able to. It is the 10.000 mAh Xiaomi Power Bank, in which the Chinese manufacturer has focused on reducing the size comparing to the 10.400 mAh model. Thus, when managed to pass the width from 77 to just 60.4 millimeters, it is now much more convenient to carry with us wherever we go. Since then, in the footage it looks quite compact. Also, the design looks good enough to be as useful as functional in your pocket.
According Xiaomi, this new power bank is able to load 2.1 times faster the Xiaomi Mi Note, that has a 3.000 mAh battery, or the iPhone 6 3.5 times faster, and once complete an iPad Mini.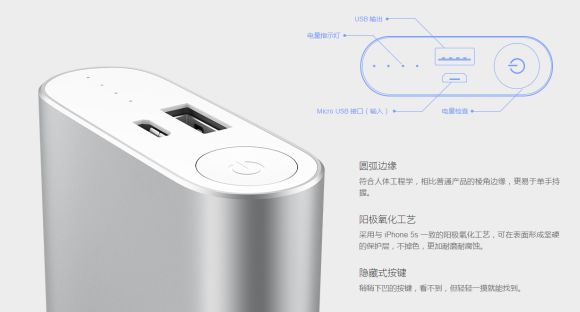 But best of all is the price, and that is set to 69 yuans, exchanging to euros it will be about 9.90 euros, a truly tempting amount. It has not been confirmed, but we assume that this new power bank is meant to replace the aforementioned model of 10,400 mAh, so its catalog would be formed by the Xiaomi Power Bank Super-sized 16,000 mAh, Slim, of 5,000 mAh, and this new of 10.000 mAh would be called the Essential.
Hopefully, so far only officially sold in China, but we can always resort to import form Chines stores. Logically the price will be increased, which will surely be available in the coming weeks.
Xiaomi Power Bank of 10.000 mAh available in the coming weeks