With Cortana sending SMS from Windows 10 PC combined with Android smartphones is possible
Cortana is the voice assistant of Microsoft that recently landed in beta version on Android even though it is only available in the US and then only in English. However, this is a software that you can download and install, and that someone is already using and trying to understand the level of interaction offered by Cortana with your voice.
It was recently discovered a very interesting new feature: sending SMS from PC. With the Windows 10 ecosystem and 10 Mobile you will have a very close interaction between smartphone and PC and you are able to perform tasks by delegating functions to either device. Apparently this connection still works well on Android as long as you are connected, of course, with the same account. In practice, as seen from the images below, simply ask Cortana from PC to send an SMS and exploit this smartphone in the cloud to send the message to the recipient.
Such is the integration that has been achieved, if message is written in the search box at the bottom of the desktop of Windows 10, the wizard itself (if it is enabled), offers as an option to send a SMS using the Android device. By the way, you can then use voice dictation, functionality initially provided by Cortana.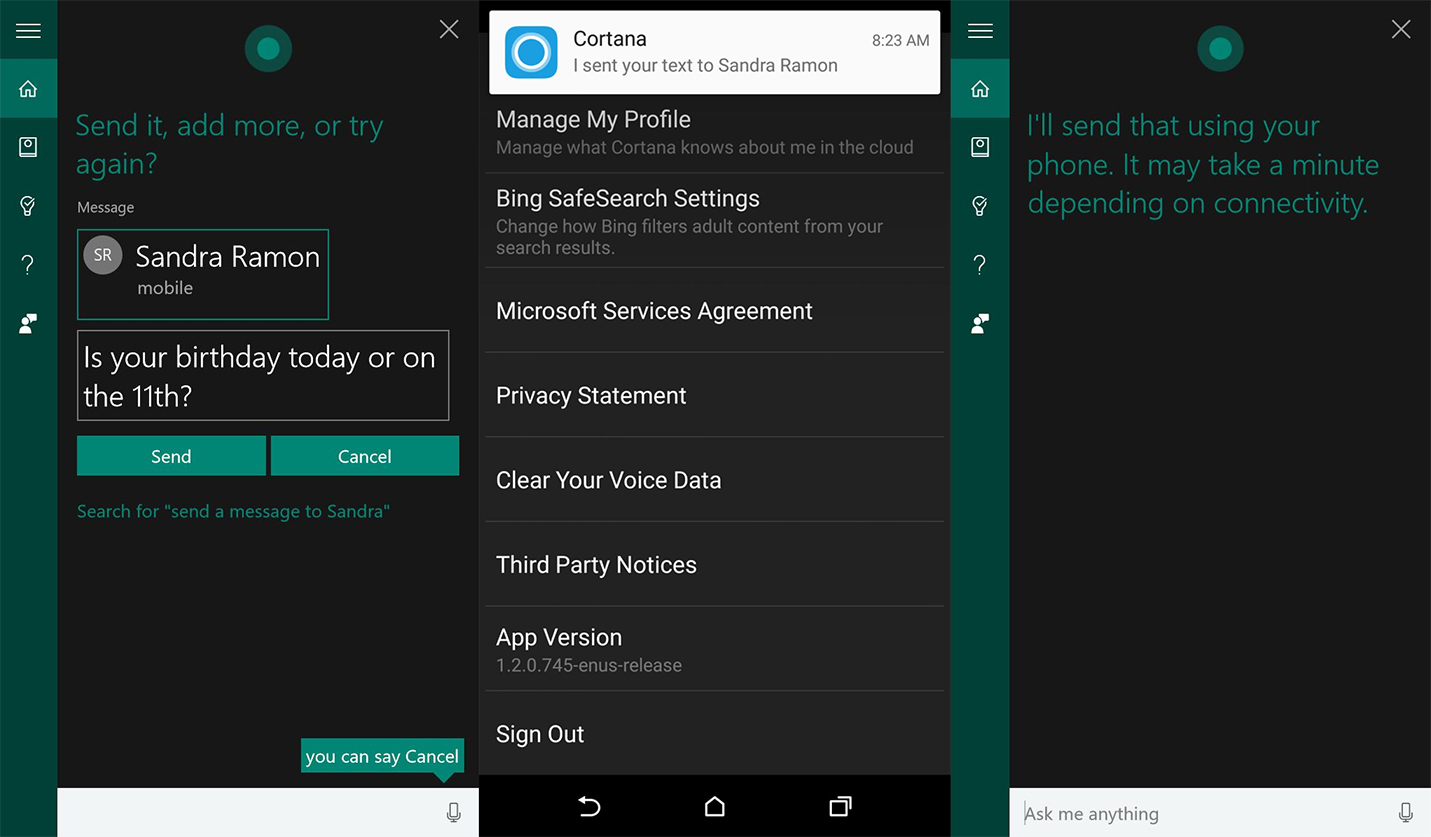 In Reddit they are already several users who have indicated that the corresponding update of Cortana is a reality, so it's clear that Microsoft has released this option to work, remember, in combination with Android devices (otherwise it cannot be sent via SMS message). However, to run the new service of the application on the phone with Google operating system you must use the native version, no further such Hangouts. If so, there is absolutely nothing to configure.
For now, the deployment of this new functionality in Cortana is occurring in countries like the US and Canada, but in no time it will be possible to use it in other regions, among which no doubt will be all the continents. The truth is that Microsoft has one of the best assistants in the market, and well worth using it and always with the "Hello Cortana" activated to start using it by using voice option. If you want to get the Android app, you can do it from Google Play Store.
With Cortana sending SMS from Windows 10 PC combined with Android smartphones is possible