Wireless battery charger. Bye cords!
Wireless battery charger. Bye cords!
Have you ever dream about a home without cords? Well, you can now move a step forward and change your conventional batteries chargers for a wireless one. These are convenient charge pads which allow you to just place your device on a mat and it will automatically start recharging.
These wireless devices are based on magnetic fields to transfer electricity, recharging the batteries without the need to use wires and cords, with a technology known as inductive charging.
However, there are many different kinds of wireless chargers, with very different characteristics. How can we choose the best one? Well, here there are a few advices about what should you be taking into account.
The first point to consider is the device compatibility. If we want a wireless charger for a specific device, then the best option is just buy the official one. But if we want a charger compatible with all the device of our home… that's another story. In this case we need to check the compatibility of the wireless charger with the devices we have.
Other points that we should think about are the specifications. Some charge pads need to be plugged while other had internal batteries. And the number of devices that can be charged simultaneously is also an important factor.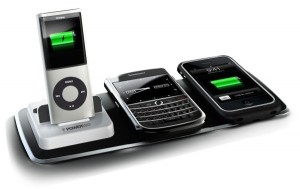 In a recent study, the site TopTenReviews has chosen Powermax 3X as the 2013 Best Wireless Charger. It's a simple mat that, when paired with the suitable receiver, can recharge a large number of devices at the same time. It's sold for $75.99 at Amazon, but you need also to purchase the adaptors for your devices.
The Powermat is compatible with almost any smartphone on the market, and the company has cases, skins, sleeves and battery doors for any well-known major smartphone. You can even recharge a Nintendo DS!