WhatsApp updated for Android and iOS: many new features for each operating system
For almost two days there are new versions of WhatsApp that introduce several features on Android and iOS, including support for 7.0 Nougat and 10, the latest release of Apple's operating system.
Interesting new features coming in the two latest Android and iOS versions of WhatsApp, which continues to hold leadership as one of the most popular chat softwares, despite the rise of Telegram. Each of the two operating systems has received several updates, designed to optimize the browsing experience and enjoy photos and video, plus some new update to Siri in the version for the Apple devices family.
Starting with WhatsApp updating to 2.16.259, dedicated to Android, which allows us to send each message written by us to more chats simultaneously. You can select the content to be sent (photos, videos, links, or simple written text) and choose from the chat that we visit most often and our interlocutors, who will receive the message simultaneously. To this interesting simplification, it adds an upgrade at video level: we can change the zoom values ​​by simply swiping our finger across the display, resulting in a sharper image, depending on our needs. Last update of WhatsApp for Android also added a front flash, which substantially consists of a white screen activated at the time when the user will click a selfie, so as to bring out tones and colors even more.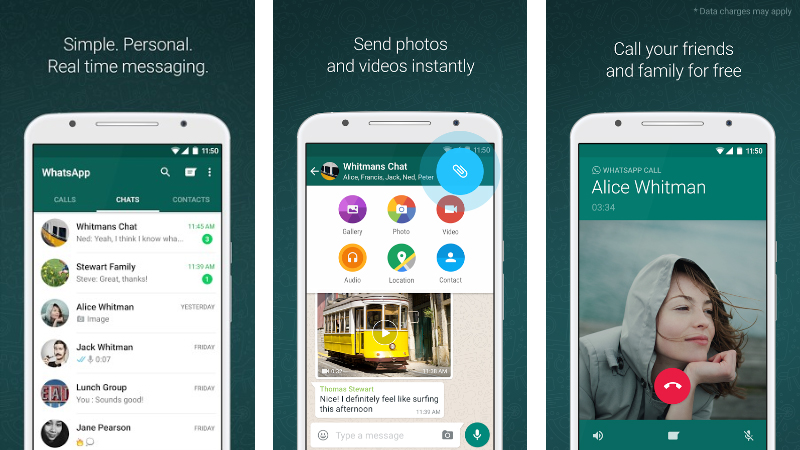 Talking now about WhatsApp 2.16.10 update dedicated to iOS: we find some specific improvements for the Apple operating system, allowing Siri to send messages, call and respond also with the lockscreen enable. It also adds a particular app extension widget that will greatly speed up our time to access the stored chat, or all conversations in which there are messages not yet read.
WhatsApp thus offers its new update with a gem destined to Android world, and dedicated to photo editing. We can manipulate our pictures by cropping, by drawing on and adding custom written with sticker: for those who want to test the new beta version, it is available on APKMirror.
WhatsApp updated for Android and iOS: many new features for each operating system