WhatsApp for Android is updated and introduces important new features
WhatsApp, one of the most popular messaging applications on Android and generally throughout the mobile sector, today received a significant number of very interesting news. The new version of WhatsApp 2.12.367 is now available in the Google Play Store, and now lets you mark important messages for later easily, Android support for Direct Share and preview links.
If you access today to the My apps and games on Google Play, you will detect a new update for WhatsApp. This is the version 2.12.367 and mainly includes two new features that will make your use experience more rewarding. The truth is that there are two features that have been here since the latest Beta versions of the app, but now reaching the final version, they are available for all content from the Android store.
While security in this instant messaging service continues in the eye of the hurricane, the company keeps pace with updates and upgrades for the application. This time it was the turn of app for Android. In addition to relevant performance improvements and bug fixes that often accompany the officially update it includes features like preview and links starred messages, as we will see below.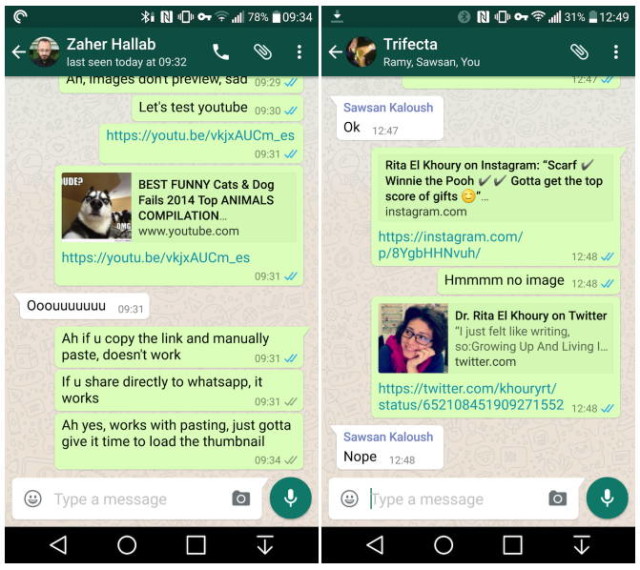 The arrival of the preview links to WhatsApp will allow us to take a first look at the top of the page to which the link will redirect us. The truth is that this feature arrives with some delay because a few weeks ago some users had occasion to meet this new tool in iOS. Despite its relative utility, the user holds the possibility of adding or not the preview at all times.
Likewise with starred messages: featured messages or dialing messages had already been introduced in Beta for some time. Now when you click on a message, not only see the options to delete, forward, or info, but also have a Star that will show us the message and save it in a new tray marked messages, ie, messages that we mark, always be on hand, which is useful given that the messages are lost in our chat history and become hard to find.
WhatsApp for Android is updated and introduces important new features