Twitter app optimized for Android tablets
Twitter optimized for Android tablets.
-Emma Rossinyol-
We have been waiting for this news since the first leak during the Samsung Unpacked event (last month in Germany). Twitter gave no comments to the rumors but finally the company has made it official. In its blog, Twitter announces today the launch of the tablet-optimized interface with all the benefits that the format implies.
Twitter mobile applications for android users have long been available, but that was not the case for android tablet users. Twitter takes advantage of the wide screen to add some interesting and new features. With the added space, Twitter can run together with other applications. Thus, you can browse the web or stream music and videos while reading Tweets.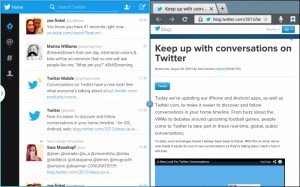 Twitter includes a new widget that brings its content directly to the tablet. The idea is provide a more personalized experience, engaging you with Tweets, videos, photos and delivering country specific information (breaking news, music, sports, etc.). You will have the possibility to favorite and retweet directly from the widget.
Another special feature of this new interface is directly related with the HD wide screen of the Samsung tablet. Now you can tweet images and photos, or draw your own colorful illustrations and share them easily.
You can now use Twitter as your canvas to create and tweet colorful illustrations, or you can also draw directly on photos from your photo gallery and share them. And of course, as you are using a Galaxy Note 10.1-2014 Edition, an S-Pen gives you the possibility to doodle (and immediately share your doodles).
There is only a drawback… you need a Samsung Galaxy Note 10.1-2014 Edition to use it right now. The other Android tablet users must wait some more, as the company has announced that for the rest of Android tablets, it will be available by the end of the year.