Tweedle for Twitter
Tweedle for Twitter
Tweedle is a Twitter client that allows us to manage our accounts easily and efficiently. It is a quick and simple app, very easy to use and incredibly stable. It is highly customizable and perfectly meets the requirements of most Twitter's users.
Despite being free, it offers most of the features usually found in premium Twitter clients. Tweedle has a basic user interface, featuring columns for timeline, mentions and messages. Dragging down any column, its contents are updated, whereas if you drag the screen left or right, quickly changes from one column to the other. The top bar contains access to composing, searching and access to the setup menu.
By default, Tweedle shows no images and videos, but you can change this option to view the videos thumbnails and images included with each tweet. The image size is automatically adapted to the width of the screen you're using.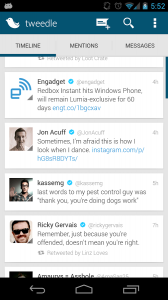 The application offers multi account support, and allows us to manage and customize them independently. We can switch accounts easily by dragging laterally from the timeline column. You can define and update notification preferences for each of the accounts. Once notifications are activated, we can set the refresh rate from 1 minute to 4 hours.
If we click on a mention, the entire conversation is shown, while after clicking on a user we will access to their full profile. In this view, in addition to the option of following the user, we can see its main statistics: the tweets posted, the number of users he follows, users who follows him and his favorites.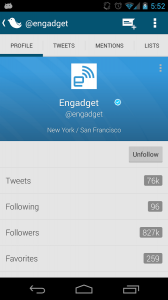 Tweendle also lets you manage your preferences easily. Lists can be created quickly and independently for each account. The interface can also be customized by choosing from several themes and you can even activate night mode, which offers the best settings to read in the dark lighting.
You can download Tweedle from the App Store and Google Play respectively.