Turtle Shell 2.0, an outdoor Bluetooth speaker
Turtle Shell 2.0, an outdoor Bluetooth speaker
Turtle Shell 2.0 is the upgraded version of the speaker that came to the market through a Kickstarter campaign. This second version includes several features that turn it in one of the best Bluetooth speakers on the market.
One of the best features is the durability, as it is waterproof and dustproof. Although we can't completely submerge it, it does hold any type of splash, so that we can take to the beach, to the pool or it can with us to the shower. It can also work fine on the rain.
The main new features for version 2.0 are higher sound power, longer battery life and the use of Bluetooth 4.0.
The Turtle Shell 2.0 manages to offer all these services and keep a weight of 295g, which makes it a perfect device to carry from one place to another. The battery provides 16 hours of music, more than enough for outdoor use.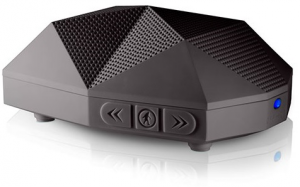 Control is achieved via three buttons that perform different actions depending on the type of press we do (short or long). Besides, on one side we find the connectors for the battery charging and the USB. These connectors are under a protective rubber that we need to put on to ensure water resistance.
The volume is 96dB, a pretty decent sound for outdoor use. Also, the sound quality is maintained for all volumes, and it doesn't appear any distortion when the power started to increase.
It has four suction cup feet to keep it stable and fixed in place, and there is an special accessory name the claw that fixes the Turtle Shell to a bike. We can buy it for $130 and it is available in a huge variety of colors: black, white, blue, red, green, turquoise, purple and orange.
You can find more information at Outdoor Tech.
Source: AndroidPolice.