The silent murderer comes to the touch screens: Hitman GO
The silent murderer comes to the touch screens: Hitman GO
Hitman Go is not a direct adaptation of the classic third person game of the Agent 47. Square Enix has released a completely different version for touch screen devices, although the idea of the game remains the same. Agent 47 must act with the utmost secrecy to succeed with his objectives without anybody finds out.
The main changes of Hitman GO are in the game style. We find that each level is set in a diorama with an impeccable aesthetics where our character walks through the stage to achieve his goal avoiding the rest of the actors. The game follows a turn-based strategy where the characters are pieces on a board game that we need to move with carefully chosen movements.
Our steps, as well as the other characters, are confined to rails that run along the scenery, with several crossings where we have to choose the new movement. We must think in advance and anticipate the movements of the other characters in the diorama, because if we run into someone's face, the game is over.
The game begins with a series of simple scenarios where we can get used to the style of play, and from there on, the difficulty increases gradually with the levels. When we complete a level, we will receive rewards in the form of cards, depending on the number of objectives that we have been able to achieve. These challenges vary for each scenario, and offer an added difficulty to every level.
The goals can range from not to kill a single person to finish a scene with a maximum number of turns. There are several ways to beat each level, and the difficulty increases with the number of goals that we try to meet. Cards obtained serve as rewards to unlock new levels, so they are essential if we want to advance in the game.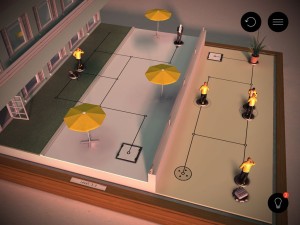 Throughout the different scenarios we will find objects to interact with. When the complexity of the diorama increases, can appear keys, locked doors, traps, and objects that we can throw to divert the attention of the guards. In addition, we have the company of the legendary tune Ave Maria, which sounds at the most intense moments of the game, and it inevitably remind us of Hitman: Blood Money.
If get were stuck on a level, there is a support system of hints that can help us to move forward using in-app purchases. In addition, there is also the possibility of paying to complete level and move to the next one, but in this case, we will not get any of the precious reward cards.
Hitman GO is available on the App Store for $6.49, and the company has already announced that it will soon be available for Android. It is a highly recommended game that manages to keep the spirit of the original in a perfect game style for touch screen devices.
Sources: Meristation (Spanish) and Eurogamer (English).