The OnePlus One is official
The OnePlus One is official
The Chinese company OnePlus has finally unveiled its flagship device, the OnePlus One. It is a premium phone with a very attractive price.
The OnePlus One carries a quad-core Snapdragon 801 processor at 2.5 GHz. It also features 3GB of RAM, and a 5.5-inch screen with Gorilla Glass and 1080 pixel resolution. It comes with CyanogenMod 11S, based on Android 4.4 KitKat.
The rear camera has a Sony Exmor sensor IMX214 13 MP with f/2.0 aperture, so you can capture good images in poor lighting conditions. It also includes a six lenses pack, which can eliminate many of the aberrations present in the simple lens. The OnePlus One also has a front camera of 5 MP with an 80° field of view without distortions on the background, especially designed to improve selfies.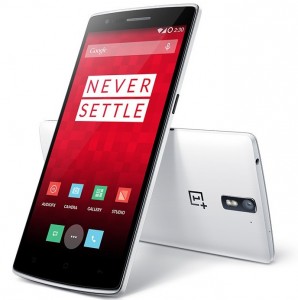 It will go on sale with two different models, with 16 and 64 GB of internal storage respectively (though none with microSD card slot). The battery (non-removable) has an impressive capacity of 3100 mAh, which seems to promise a considerable autonomy. Despite the huge battery, the OnePlus One is 8.9 mm thick and weighs 162 g.
The device also features a tri-microphone system designed to improve voice clarity, eliminating the background noise. The company claims to improve the clarity of speech by 80 %.
The buttons may be capacitive or on screen, depending on our tastes. Capacitive buttons can be enabled or disabled, and we can choose the option that best suits our preferences.
The price is the main feature of this device. It goes on sale for $299 (the model with 16 GB of memory) and $349 (the 64 GB version). It goes on sale in mid-May in Austria, Belgium, Denmark, Finland, France, Germany, Hong Kong, Italy, Netherlands, Portugal, Spain, Sweden, Taiwan, United Kingdom, and the United States.
Source: OnePlus.