The NFC Ring is a reality
The NFC Ring is a reality
The NFC Ring started as a Kickstarter campaign to gather £30,000, but it was so successful that joined more than £240,000. After months of work, the pre-order opens to curious today for this curious device.
With the popularization of NFC technology, more and more smartphones are compatible with the NFC Ring. This ring allows us to perform small actions that use this technology as unlock mobile devices or open doors (controlled by NFC locks).
The Ring includes two NFC tags to store information, public and private. The information stored in the public label can be shared with other people via NFC, while in the private label we can store instructions to unlock the phone or open a lock.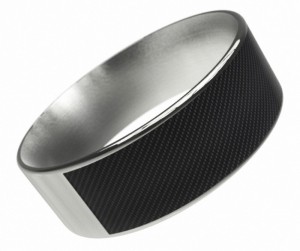 It can also be configured to launch predefined apps. When we perform a predefined movement with the hand near the phone, it will automatically start the application we want.
In Google Play there are already available some apps that allow to unlock a mobile device from a NFC source, so they are perfectly compatible with the NFC Ring.
Two versions are available, the standard ring and the "Alpha" one. The latter has a bigger label and the whole ring is wider, designed to locate more easily the best NFC point in our mobile. The reason is that for a correct reading, the ring must be in a very specific position of the mobile, where the NFC signal is strongest. That changes with each smartphone model, so a wider ring allows greater flexibility in its situation when interacting with the phone.
This device is fully waterproof and has no battery, so you never have to charge it. It's available for $49 in the standard version and $59 the "Alpha" one.
More information at NFC Ring.
Source: AndroidPolice.