The new update of Escape the Mansion brings new levels
The new update of Escape the Mansion brings new levels
New levels of Escape the Mansion are now available. It is another puzzle game from the creators of 100 doors. The game follows a similar aesthetic, and in this case, we also need to open a door to move to the next room.
To achieve this, we must solve a small puzzle that will give us the key to unlock the door. The puzzles may be something as simple as setting aside a painting to find the key behind, or may require solving a puzzle in a limited amount of time.
Some doors are very easy to open, and the game starts with a helpful tutorial, but as we progress, some levels cam be really challenging.
The game is free, but includes in-app purchases. These in-app purchases are used to acquire coins, necessary to ask for clues when we get stuck on some level. For a few coins we buy a can buy an advice, but this is only a hint and we still need to solve the riddle. Paying a little more, we can see the detailed solution, and if we decide to pay more, we can jump directly to the next level.
The game starts with 175 gold coins that can be very helpful in some situations. Furthermore, Escape the mansion has a reward system that allows us to obtain coins without buying them. If we are patient, we can pass all the levels without having to pay anything. However, we will always have the chance to overcome any difficulty with a small in-app purchase.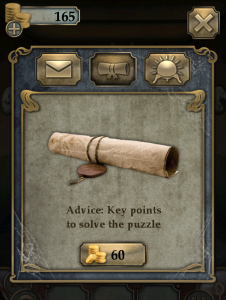 Overall, this is a game that offers a good balance between playability and in-app purchases, and if we enjoy puzzle games, we will not be disappointed.
You can find Escape the Mansion for free on the Google Play . It is currently available in English and Russian, although the company has announced that future updates will include German, Spanish, French, Korean, Japanese and Chinese among others.