Tegra Note 7, a cheap Nvidia tablet
Tegra Note 7, a cheap Nvidia tablet
Tegra Note 7 is a cheap Nvida tablet running pure Android. You can purchase this 7 inch tablet for just $200, with a nice bonus: it comes with Nvidia's "active Stylus". This provides an integrated pen which could cost quite a bit if when you buy something similar for other devices. Here you can find its main characteristics:
The specifications. Matching the powerful Nvidia Tegra 4 processor, the tablet has 1 GB of RAM and 16 GB of internal memory (with microSD expansion up to 32 GB). However, the screen resolution is rather low (1280 x 800) when you compare it with other similar devices.
The Stylus. Tegra Note included an ActiveStylus which tucks into the tablets body and works nicely. Nvidia explains how it works:
"The compute capabilities of Tegra 4 is used to analyze data from a standard touch sensor and recognize the difference between fine-tip stylus, finger, eraser and palm. From a technology perspective, you can use a fine-tip passive stylus to draw lines of different widths by simply varying the applied pressure. From an end user perspective, users can write accurately and naturally using a simple passive stylus, while the opposite end of the stylus can be used as a marker or eraser."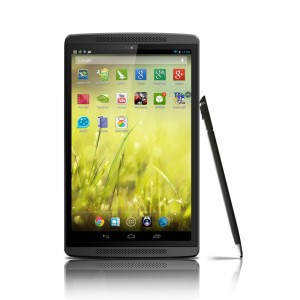 The software. Tegra Note 7 runs Android 4.2.2 with some interesting apps added: Adobe Reader, the Tegra Zone, Google's app suite and their ActiveStylus support and apps. Updates to the stylus app comes directly from Nvidia.
The camera. The Nvidia Tegra Note 7 comes with a 5 MP rear camera and a front facing VGA. It's clearly not his best point, but an update is expected this December for the announced AOHDR support, which is supposed to improve the actual camera app (an optimized version of SmugMug's Camera Awesome).
The performance. Tegra Note works brilliantly at gaming. The middle resolution screen allows the powerful processor to run at high frame-rates, even at the highest settings. The game controller support has also been also improved and works smoothly.
Source: AndroidCentral.