SwiftKey 4.3 is available
SwiftKey 4.3 is available
SwiftKey as announced the new version of its popular Android keyboards. Their versatile "Layouts for Living" program provides your device with many layout options, from split keyboards to movable pop-up ones.
The idea behind this program is providing a comfortable way to type quickly no matter what device you use or in which position you are. The keyboard molds to your device and position to offer the optimum condition for a quick and efficient typing. This new version has three keyboard layouts, all resizable and undocked:
Compact. For easier typing with one hand on larger phones, when it's difficult to hold the phone with just one hand. It also cleans more screen estate on tablets.
Thumb. For typing with wide phones and tablets in landscape position. The keyboard is split in two areas, enabling comfortable typing with both thumbs.
Full. The tradicional one is also available for tablet users who are not holding the device when writing.
The company has released a video showing the different layout options:
These are the new features this version includes:
• 5 different sized to find the keyboard that best fits your device.
• The keyboard position is not docked; it can be placed wherever on your screen.
• The secondary (123) and tertiary (symbols) layout have been rearranged, based on user testing. • A theme for SwiftKey and SwiftKey Tablet called "Dark" (the original tablet "Dark" has been renamed as "Forest")
• Extended layouts for tablets, with left and right cursor keys.
• The 4 cursor keys are now on the secondary (123) layout on tablets, while phone users can choose to have them on the main layout.
• 10-inch tablets can have a central numpad in the thumb layout in landscape.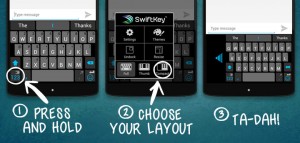 SwiftKey 4.3 is available as a free update for existing users and ready to purchase for $4.83 (1.99€) either from Google Play or the Amazon Appstore.
More information: SwiftKey.