Sony USB Flash Memory for Mobile Devices
Sony USB Flash Memory for Mobile Devices
Sony has announced a 2-in-1 USB flash drive for smartphones and tablets. These devices have a USB connection on one end and a micro USB on the other. It's an interesting solution that would solve one of the weakest points of low-middle end smartphones and tablets, which usually have a rather low internal memory. The option suggested is the use of storage services in the "cloud", but not everyone likes this solution.
These new dual flash memory will be available in 8 GB, 16 GB and 32 GB, and we can choose between 3 different colors (white, black or blue). To ensure they have the necessary strength to withstand everyday mobile phones intensive use, the sticks are constructed with a metal case and have protective caps on both connectors.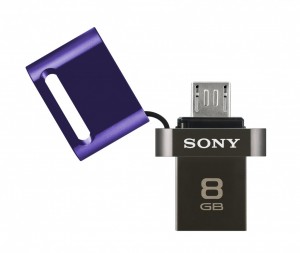 Thus, you can easily use these memories to store movies, music libraries or photos. Moving files between devices becomes a simple and quick task, and sharing files between users is also simplified.
Sony has also announced the dedicated app "File Manager", available for free download on the Play Store. With this application, you can easily organize your files in the device. The app automatically starts when you connect the flash memory (although Sony does not ensure that this feature is available for all smartphones). It also includes the option to remove the memory directly, without going to the setup menu.

Flash memories are compatible with Android devices, but require versions between 4.0.3 and 4.3, as they use the USB On-the-Go (OTG) function. Sony announced that it will be soon compatible with Android version 4.4. The USB memory stick will go on sale in January at the Sony Store for $ 19.99 the 8GB U.S. $ 29.99 for 16 GB and $ 62.99 the 32 GB.
More information: Sony.