Sonic Dash available for free in the Play Store
Sonic Dash available for free in the Play Store
Sega has launched another Sonic game for Android, available today on the Play Store. It's called Sonic Dash, and it's an endless runner game (like Temple Run). The game is set in the classic 3D Sonic sceneries, where you need to collect rings and run as long as you can go. As usual, you will need to jump, slide and roll in order to get past your enemies and keep collecting the rings you need for buying the different power ups and unlocks. Sonic games have always been focused on speed, on running forward quickly, between obstacles. Sonic Dash is not an exception. It display the classic image used for the last decade, and you will even need to fight some bosses. The game shows a good balance between the complexity of a full Sonic title and a simple endless runner game, which makes it ideal for gaming on the go.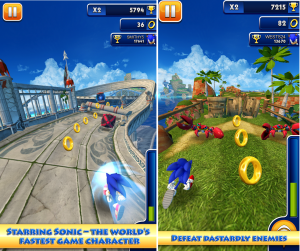 Sonic Dash allows you to use Sonic's powers to dodge hazards, jump over barriers and speed around loop de loops. You also need to defeat enemies using Sonic's devastating homing attack. And you can do it as Sonic the Hedgehog or as one of Sonic's friends, including Tails, Shadow and Knuckles. Now you can challenge your friends inviting them through Facebook or find them on the leader boards.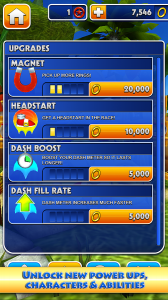 The game comes free for both tablets and phones, optimized to play in portrait mode. The game includes some in-apps to purchase, most of them consisting on buying more rings, unlocks and power-ups. The adds appears constantly between runs, so if you plan to play it quite often, it could be a good investment to purchase one in-app to remove the ads for a minimum price of $3.99. You can find the game for free on the
Play Store
. More information at
Sonic Dash
.