Soccer's free apps
Soccer's free apps
FiFA has released its free official app for Android, iPhone and iPad. This app has joined the several soccer apps available on the market, and provides all the possible news concerning the soccer's world. Currently, there are 32 nations engaged in the biggest soccer competition: the World Cup. They will be competing in Brazil next summer, and on December 6th FIFA's going to be using its new mobile ware to stream the 2014 World Cup Final Draw for free , as well as schedules, a destination guide for Brazil and team profiles for all the participants.
FIFA's app also provides a huge amount of information about 197 leagues worldwide and possibility to follow our favorite leagues and teams. In addition to match results, the app also includes related news, photos and videos.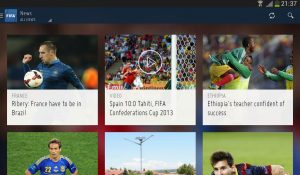 For all the fans that in addition to be informed also want to take an active part of the competition, FIFA 14 has a free app for iOS and Android users. FIFA 14 is a sports soccer simulation video game developed by EA Sports. It was launched in late September for video games consoles and Microsoft Windows and the company also released it as freeware for mobile devices.
If any of you don't have the game yet, it's available on the Google Store and iTunes for free, although there are some in-app purchases. These payments cover the possibility to spend money to save time, but there also three modes that are only available after a paid upgrade. The modes are Manager, Tournament and Kick Off, so if you want them, prepared you wallet!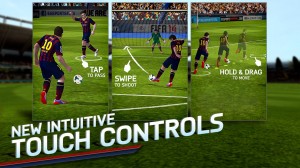 However, the game is the most authentic soccer game you can find for Android and iOS devices. FIFA 14 contains more than 16,000 athletes in 600 teams with 34 stadiums spread worldwide on 33 leagues. Just pay attention to the size of the app, with 1.3 GB, you will need to take your time!