Snowball: an app for all your messages
Currently we receive a lot of messages on our smartphone coming from the different applications we have installed. Each one sends their own notifications and currently there isn't any easy way yet to handle all this information in an efficient and unified framework.
Snowball is an application that was supported by Google Ventures, and aims to bring together all these messages under the same app. With this application, we can receive notifications, from the main messaging apps used worldwide.
Once installed on the phone, the app appears as a small snowball. Whenever we receive a new message, we can access it as it will appear even if we are using any other app on our smartphone at the time. Tapping on the snowball, we can directly access the app, where we can see the notifications we have just received.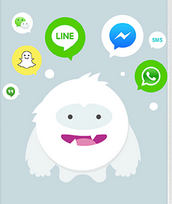 The only downside to this app is that it is one-way. That is, although we can read all kind of messages from several applications, we have to access the corresponding app to respond to them, so we cannot avoid to have them installed on the phone.
Snowball shows us the messages we receive and simply by tapping on them we can access to the corresponding app to reply. Currently, the app is available in its beta version on the Play Store, and is completely free.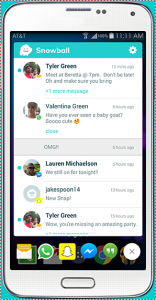 Up to now, Snowball is compatible with Facebook Messenger, WhatsApp, Snapchat, SMS, Hangouts, Twitter, Line, WeChat and Slack. The developers claim that here will be more applications compatible soon.
If you're looking for something that can organize a little your notifications, it's worth a try. It's still missing some features and there are some details to polish, but being a beta is not bad at all. As it is completely free, you aren't going to lose anything to give it a try, and it can be easily downloaded from the Google Play.