Snapchat could incorporate audio notes, video calls and voice calls
Snapchat is the social network for sending and receiving photos and videos that are "self-destruct" in maximum 10 seconds, or where it also may be posted for 24 hours in "My Story". As Snapchat grew as a social network, it was improving day after day; incorporating events, filters, stickers localization and even videos in slow motion and fast motion.
In the past 2015, Snapchat did an amazing "stretch" in popularity, especially with the addition of the famous effects on its front camera. For that and more, Snapchat is one of the most photographs social networking used today, but apparently not enough and soon could include video and voice memos. Just as some additions have proved to be a complete success, some others like the "Discover" section have not attracted so much attention, and sometimes can get to be annoying. Still, developers of Snapchat seems they are not entirely satisfied, and if the rumors are true, more typical functionality of new messaging application would come.
The creator of Snapprefs, a Xposed module to expand the possibilities of Snapchat, found a surprise this week delving into Snapchat code: Possible references to audio notes, voice calls and even video calls. Found in apps like Telegram, WhatsApp or Skype, messaging applications, and in a while we will find this type of features also in Snapchat.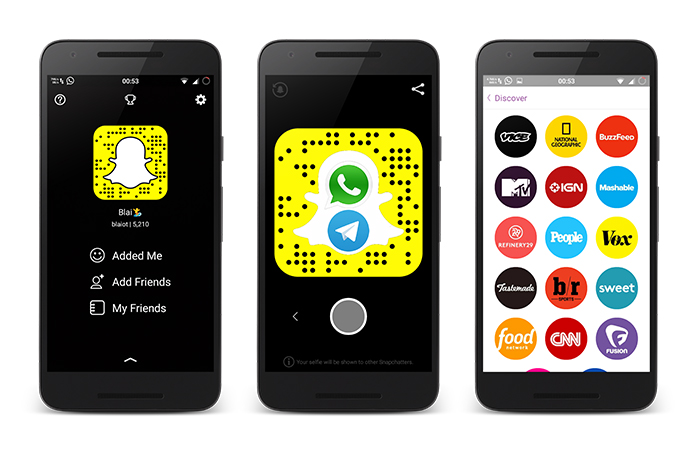 Audio notes are those voice messages created while talking on our smartphone micro pressing the icon; quite popular since its release. Online voice calls have also been implemented in the main applications of chats around the world, and finally, video calls, what is more typical for Skype, which incidentally inaugurated a week with this feature in the application.
Therefore, if these functions definitely come to Snapchat, we are talking about a transformation of the social network to a messaging application, although somehow specialized in photography. It is recalled that currently with Snapchat you can chat and talk with your contacts, but so far only been implemented as point function. On the other hand, there is also much to these new features, in particular, voice notes, which can become useful if we need to drop a big speech that we are too lazy to write or have our hands full. However, video calls and voice calls are just used in WhatsApp, an app made to talk.
Snapchat could incorporate audio notes, video calls and voice calls