Smugmug's Camera Awesome available for Android
Smugmug's Camera Awesome available for Android
The Smugmug's Camera Awesome is finally available on the Play Store for $2.99. It has been a long time favorite app on iOS and after some time in beta on Android, today is available to all.
This Smugmug's app is a really good camera user interface. Camera Awesome brings a collection of filters and special effects to help us to produce dazzling photos. It is full of features and settings. Here you have a list of the most important ones: • Composition guides: set up better shots with screen guides for horizon, rule-of-thirds, golden ratio, and more • Shooting modes: including high-speed burst, panorama, and HDR • Anti-shake video mode: video image stabilization • Face recognition and tracking: automatically identifies and tracks multiple faces in the shot to keep subjects in perfect focus • ISO, White Balance, and Exposure: power users can choose among multiple white balance modes, exposure compensation values, and manually select ISO settings from 100 to 1600 to capture the perfect shot • Resolution settings: shoot both photos and video in multiple resolutions • Creative Editing Tools: 100+ artistic effects, crop, rotate, and insta-edit with the "Awesomize' button • Selective Editing: touch to add or erase which parts of the image have filter applied • Sharing: in addition to sharing on Facebook, Twitter, Sinaweibo, Google+, Instagram, Photobucket, Picasa, Tumblr, YouTube and Flickr, users can now share to any other services via supporting apps installed on device • NVIDIA® Tegra®: Additional features on supported NVIDIA® Tegra®-powered devices including slow-motion video, enhanced HDR, and integrated stylus support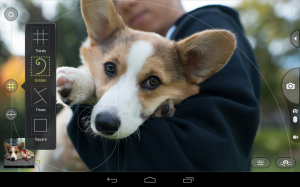 If you're looking for a new, full-featured camera app, this is a pretty good purchase for $3. Camera Awesome works on Samsung Galaxy SIII, S4, Galaxy Nexus, Note 2, Note 3, Nexus 4, Nexus 7, Nexus 10, (Nexus 5 coming soon), Sony Xperia Z, HTC One, MotoX, Motorola Droid Razr, Kindle Fire HDX 7″ and 8.9″.
You can purchase the app on the Play Store.
More information: SmugMug Blog.