Smash Bandits Racing comes to Android
Smash Bandits Racing comes to Android
Smash Bandits Racing has finally come to the Google Play. It isn't exactly a racing game; it follows an endless running style. Like all games on this category, the goal is to get as far as possible to obtain the highest score.
In Smash Bandits Racing we drive a car across the United States, in an attempt to cross the country and get to the border. We play the role of a fugitive pursued by the police who pursue us relentlessly throughout the different escaping routes we choose.
The controls are simple, we can accelerate and brake moving a finger, and change direction with a simple twist to the side. And we can crash. We can destroy everything that is within our reach, either street furniture or other cars, including all sorts of police cars. We will add extra points depending on how many things we destroy without getting caught, and the points are translated into coins that can be used to improve the car.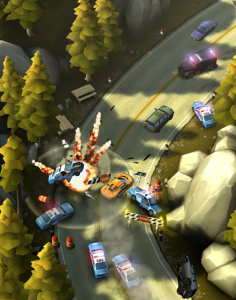 We start the game with a simple car model, and we can buy improvements as we gain points, to get every time a little further in our mad race. Collecting points is essential and one of the best forms of increasing audience in the TV. Our escape is life on the news, so we always have a TV helicopter nearby, and if we raise the audience, our final score will reflect it. And there is no better way to increase the audience than causing as much chaos as possible!
The game is free, but includes in-app purchases which speed the improvements. If we don't want to wait for a few extra accessories for our car, we can always make an in-app purchase and skip the waiting time. Among the items that we buy, we can find from steel tires puncture-resistant to fully furnished cars. We can download it for free from the Play Store.