SmartSD memory cards will add NFC support to all Android smartphones
What's NFC?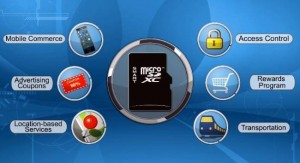 NFC technology
can allow us to pay our purchases safely in a shop simply putting our device next to the cash. It can let us share data easily and other security-related services from our mobile device. It's possible that some of the problems to increase the popularity of this technology is that there are a few amount of shops with support for this protocol in every country,
Android smartphones
with
NFC
chip normally has a increased price, there are a few amount of apps that use it, etc… So, it makes many people don't use it. However, it seems that finally something is changing and the
NFC
technology is becoming popular in the mobile telephony sector. The new
Android smartphones
are beginning to have
NFC chips
built by default. But most of the
Android phones
in the market do not have this type of technology and many users may not be able to use this technology today.
SmartSD solution
There is a solution to this. The SD Association, the responsible for defining the standards of SD storage cards, is finishing the definition of the new standard card, called smartSD. This new standard will include several improvements over existing cards, and one of them is the ability to integrate communications NFC SD card itself, so that it can be added to any phone and it will let us enjoy all advantages of
NFC technology
and many other security services in any Android smartphone.
Intuitive Video about how SmartSD will work
Here you can find a video with more information about this.
Current Android smartphones with NFC support
Motorola Razr i XT8903 Motorola Razr HD XT925 Samsung Galaxy Note 24 LG Optimus L5 E610/E612 LG Optimus L7 P708 LG Optimus L9 P760 LG Optimus G E970/E973 LG Optimus 4X HD P8805 Samsung Galaxy Ace 2 Samsung Galaxy Mini II Nexus S6 Google Nexus S 4G7 Nexus 7 Nexus 4 Galaxy Nexus by Samsung8 Samsung Galaxy S II (no todas las versiones)9 Samsung Galaxy S III Samsung Galaxy S III Mini (no todas las versiones) Samsung Galaxy S IV Samsung Galaxy S IV Mini Samsung Galaxy Note (no todas las versiones) Samsung Galaxy Note II Galaxy Nexus10 HTC Amaze 4G Huawei Ascend G300 (no todas las versiones) Turkcell T20.11 Sony Xperia S Sony Xperia Acro S Sony Xperia sola Sony Xperia P Sony Xperia ZL Sony Xperia Z Sony Xperia ion Sony Xperia GX Sony Live Sony Xperia SX (no oficial) Sony Xperia T Sony Xperia V HTC One X HTC One Panasonic Eluga and the list is growing very fast. But if yours is not appearing in the list, don't worry. With Smartsd memory cards you will enjoy NFC and many other interesting services in your current Android smartphone easily. I'm sure you will find all this interesting. Enjoy it! Hexamob
Rooting for android