Skype has a new update!
Skype has a new update!
Skype just added some interesting features in the new Android version released, as the "Picture-in -Picture" functionality and the improved contact search. Who does not know Skype … with over 250 million users, is the free tool of communication most widely used that allows text messaging, voice or video.
The most prominent new characteristics is the new feature called "Picture-in -Picture". It consists on the possibility of keeping a floating window while another application is running. Thus, you can keep a videoconference with the other person while at the same time another app is running below.
This feature is more impressive than it looks, because in general, Android does not support multitasking mode. One of the few exceptions is the limited implementation of multitasking in some Samsung devices. In its blog, Skype says that they want to develop a similar experience to Windows 8 Snap View, but with an Android twist. Now we can finally work in multitasking mode and while we perform video conferencing and voice calls.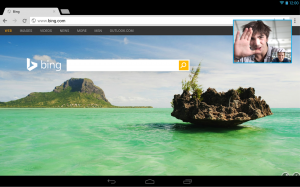 The application is only designed to work on tablets (even when installed on Android smartphones, it also ask us permission to move the app ahead of other applications). This is an example of how mobile devices are close to traditional PC models. The multitasking method is one of the key points of computers, and it seems that tablets are approaching slowly to that working method.
The second interesting feature is the new quick way to scroll the list of contacts. Now you can click on the list to see the letters of the alphabet. Clicking on a letter, the contacts starting with that letter will appear, thus facilitating the search.
The update addresses some general issues and improves the overall performance of the application. It also fixes compatibility issues in video messages. You can download the update in the Play Store.
Source: GigaOM.