Shazam with Auto always listening on Android and iOS
Shazam has always been particularly pleasant, with frequent updates and bug fixes in record time. Now even more: the popular app for Android has been updated to include the new 'Auto' option that allows the automatic recognition of the music that resonates around the user at any moment (three years after the introduction on iOS.).
Auto Shazam allows you to continually recognize music that is located around the device even if the user holds the phone in lock mode. This means that if someone wants to recognize a song and did not have time to unlock the phone and start it, can just keep the phone in their pocket and Shazam will recognize the songs that manages to listen.
If you have received this update on Android, just tap the new 'Auto' button on the home screen at the top right to activate the feature and recognize automatically all the music that resonates in the environment where the user is located, so do not miss a song without having to worry about pressing a button each time you want to recognize a new song with Shazam.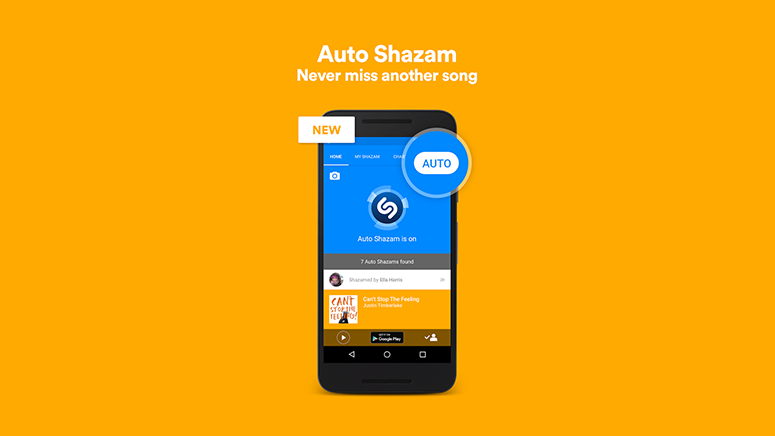 Auto Shazam is particularly useful when you are driving with the radio on and you want to find out the title of the song playing -Shazam is activated before the trip, and all the songs that will pass on the radio will be automatically recognized and identified from the app in the 'My Shazam' tab to be subsequently found.
When 'Auto' is activated and the microphone is always listening, the app remains active, so you can think that the smartphone will drain the battery more quickly -from this point of view, Shazam explains that the application will continue listening in low power mode. It is inevitable that, acting in the background, a minimum increase of the Shazam battery consumption will happen, then surely there will be a higher energy consumption but should not be very high.
Shazam with Auto always listening on Android and iOS