Samsung Smart Home, to control appliances from Mobile
Samsung Smart Home, to control appliances from Mobile
A few days ago, LG announced its intention to present HomeChat, a communication tool between our mobile devices and home appliances. The HomeChat uses NLP communication protocol and allows us to control of home appliances via LINE.
Its direct competitor is following a similar path, so Samsung has done a similar press release, in which the company shows the main features of Samsung Smart Home, its management system for home appliances.
Samsung Smart Home has three basic functions, Device Control, Smart Home View and Customer Service. These applications are: • Device Control. It allows us to control the operation of all the devices of the home via smartphone. With this functionality, we can turn on or off the lights and the air conditioner or define some settings, such as certain lighting conditions for instruction like 'Goodnight'. Samsung announces the Galaxy Gear compatibility, so we can use the smartwatch to send an instruction, or just be able to tell the smartTV remote control to turn off when we are going to sleep. • Home View. It allows us to see the house through the smartphone. To do this, it uses different cameras integrated into the company's devices. • Custom Smart Service. We can receive notifications regarding the services appliances or the replacement of consumables. It also provides assistance in after-sales servicing.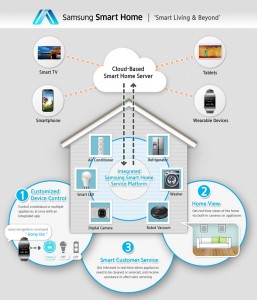 The company has developed a dedicated communication protocol (protocol Smart Home software , SHP) which enables not only to connect Samsung devices, but other manufacturers' devices and appliances.
The Samsung Smart home will be unveiled at CES in Las Vegas and will be available in home appliances, SmartTVs and mobile devices in the first half of 2014. Initially it will focus on some SmartTVs , appliances and smartphones, and is expected to gradually expand its coverage to include other brands.
More information: SamsungTomorrow.com