Samsung presented the Galaxy Note 4 and Galaxy Note Edge
A couple of days ago, Samsung presented the new Galaxy Note 4 and the Galaxy Note Edge.
The Galaxy Note 4 has an amazing 5.7-inch screen. It is a Super AMOLED with Quad HD resolution (2560×1440 pixels). The company says it is able to provide high-contrast images from all angles, while maintaining a very fast response time.
It's powered by a quad-core processor running at 2.7 GHz or by an 1.9 GHz eight-core one (two quad-core, one at 1.9 GHz and the other at 1.3 GHz), depending on the country and the carrier offering the device. It has 3 GB of RAM and comes with 32 MB of internal memory, expandable via microSD card.
It includes two cameras, a rear 16MP one equipped with Smart Optical Image Stabilizer (which counter-balances camera shake when taking a picture and adjusts the exposure according to the ambient light) and a 3.7MP front one with f1.9 aperture, which allows you to shoot at an angle of up to 120 degrees.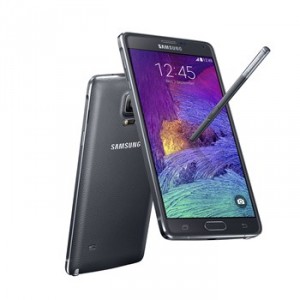 The Galaxy Note Edge is a very similar device than the Note 4, with which it shares most specs, but it has a unique feature. The Note Edge has a curved screen which extends along one side of the device and acts as a secondary display. Through this screen, you can receive notifications, alerts and even access some applications without opening the cover.
The main screen has the same resolution as the Note 4 and a size of 5.6 inches. In addition to the main screen, now we have the curve extension offering other 160 extra pixels. All other specifications are identical to the Galaxy Note 4 and both come with Android 4.4.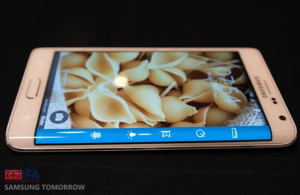 Both devices include the characteristic S Pen, which has also received a number of enhancements that enhance its performance. Along with better control and more writing options for the apps, it has been upgraded to simplify and improve the interaction with the S Pen, so it is easier and more practical to use than the previous version.
The two devices also feature a fast charge mode, which charges the battery (3220mAh in the case of 3200 mAh Note 4 and Note on the Edge) in record time.
The Galaxy Note 4 will be available in four colors, black, white, gold and pink, while the Galaxy Note Edge will be found in black and white. The Note 4 is set to hit international markets in October, however, the Edge Note only will be available in some markets, and it will not reach them until later this year.
More information at SamsungMobilePress.