Samsung Gear and Galaxy Note III confirmed
Samsung has finally confirmed what everyone was waiting for, the SmartWatch Galaxy Gear will be presented on September 4. Furthermore, Samsung has detailed this new Android device will not use a flexible screen as rumored in some media. Samsung has been preparing this product thoroughly and in the South Korean company they are thinking about it will be more successful than smart watches presented by competitors. This new gadget from Samsung will be presented in a few days so we will look at all the final specs to make you get all the information.
Rumored specs
The specs that have been rumored about this gadget are many but it seems most likely that this Android device could incorporate a Samsung Exynos 4212 processor 1.5 GHz Dualcore and a small camera. Other specs like NFC chip, S Voice, GPS, etc…could be incorporated too but processor and camera seems to be confirmed. At least this is what they show the leaks have been occurring in recent weeks. Remember that both Sony, Google and Apple are engaged in similar projects so it was expected that Samsung would step forward. This shows that manufacturers are betting big on these devices and this year end we will have several models from different manufacturers for sale.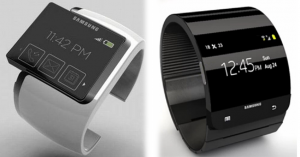 Samsung Galaxy Note III announcement
As if this were not enough, Samsung has confirmed that the upcoming IFA in Germany will be presented their new phablet, the Samsung Galaxy Note 3 highly anticipated device worldwide and that seems to finally to be announced officially . However, the details and specs about this new version of the hit series remain unknown Galaxy Note Officially, there are only unconfirmed rumors although it is true that Samsung has said that the characteristics of the Galaxy Note 3 will make a noticeable difference with the other Android devices currently known. In a few days we will confirm if it is.