Samsung Galaxy Tab 3 Kids available next November
Samsung Galaxy Tab 3 Kids available next November
Samsung has announced that the Galaxy Tab 3 Kids will be available next November 10th. The company presented the device last August, and after one month selling it in Korea, the Galaxy Tab 3 Kids is finally available worldwide.
Everybody knows that kids love technology. Sometimes even too much. Many of us would like to have a kid's resistant tablet which provides all the fun our children deserve. Here comes the build-for-kids tablet. The concept is not new, in fact, it's a growing market, lead by companies like Fuhu and OLPC. Now Samsung has joined them with a quite impressive device.
The Galaxy Tab 3 Kids has a 7'' screen with a resolution of 1024×600. It runs Android 4.1 and has a 1.2 GHz dual-core processor with 1 GB of RAM and 8 GB of internal memory. The tablet also included a rear 3 MP camera and a front 1.3 MP camera.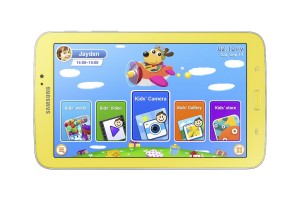 Samsung Galaxy Tab 3 Kids it's the first tablet of the company built specifically for kids, promising fun for them and educational tools and safety controls for the parents. The tablet has a collection of top ranked kid's application with a content covering from educational tools to games and e-books. The Application Manager allows the parents to select the contents that the kids can access and a Time Manager tool blocks the device if we preselect an operation time. If this is not enough, the Galaxy Tab 3 Kids also has dual operation mode. One mode is full Android with Google Play access and the second one is an intuitive and restricted interface specially designed for kids operation.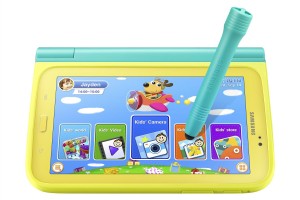 The Galaxy Tab 3 kids will be available on the market next November 10th, with a price of $229.99 or $249.99 if we include a protective case and a C-pen stylus to draw and write onto the tablet.
For more information: Samsung.