Samsung Galaxy Gear extends its compatibility
Samsung Galaxy Gear extends compatibility
When Samsung launched the Galaxy Gear, the company presented the device as compatible with Samsung Galaxy Note 3. It meant that only one smartphone could pair with the Galaxy Gear smartwatch. It has been a huge drawback for the company, as many possible costumers would have bought the device if it didn't required buying the Galaxy Note 3.
Now Samsung have another added problem. Some recent documents leaked to Geek.com reveal that around 30% of the Galaxy Gear sells at Best Buy are being returned. The reasons are not clear, but part of them could be related with these compatibility issues. Knowing this problem, the company has planned a series of releases to give the older devices (Galaxy S4, Note 2, S3 and S4 Active) an up-to-date actualization with Android 4.3. There is a schedule set for the release of each actualization but all of them will be ready by the end of the year.
Another limitation of the Galaxy Gear is the poor support for non-Samsung apps. To avoid these issues, other companies have tried several approaches. In this sense, when Google acquired WIMM Labs, they even launched software for the developers to prepare micro applications which could run with or without an external connection between the device and the phone.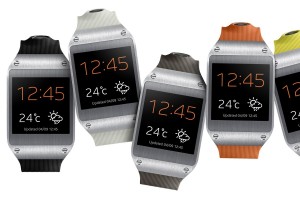 However, all these smartwatches are a complement to the phone. Currently, there is only one kind of smartwatch completely independent from any smartphone. Omate TrueSmart is a smartwatch that accepts a microSIM. Its specifications are comparable to those of many android smartphones available on the market, and it's perfectly waterproof. The smartwatch came from a project started on Kickstarter which got a tremendous support from the users. The first units of Omate TrueSmart will arrive by the end of this month…
You can find the scheduled actualizations and more information about the Galaxy Gear at Geek.com.