Samsung distances itself from Apple in the smartphone market
Maybe most of these results are due to Samsung Galaxy S7 and Samsung Galaxy S7 Edge, maybe not, but the truth is that sales predictions made by experts on Samsung were lower than the actual sales. According to Strategy Analytics, the smartphone market has reached to its low point and the prospects are now talking about a slow return to growth.
The global smartphone market is "flat." According to data released by IDC, for the second quarter of 2016, deliveries showed an increase of just 0.3% over the same period of 2015. As previously highlighted by Gartner, in major markets it has now reached a level of saturation, while in emerging countries the economic models offered by Chinese manufacturers have had some success these last three months.
In the second quarter of 2016 companies were selling 343.3 million smartphones against 342.4 million of last year. The top 5 of the world's leading manufacturers remained unchanged, but the data released by IDC clearly highlights the current market trend. The top spot is always occupied by Samsung that delivered 77 million units, increasing its market share by 5.5%. Apple has however lost 15%, down from 47.5 to 40.4 millions of units, as confirmed by the latest quarterly results.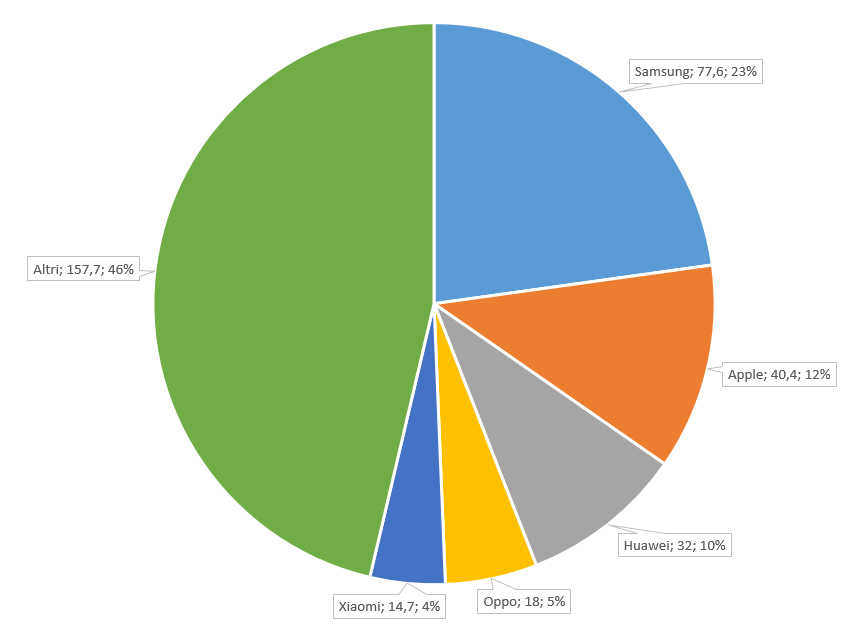 So yes, answering to the question asked at the first paragraph: the increase for the Korean manufacturer is largely due to the Galaxy S7 and S7 Edge, but also to the popularity of the new Galaxy J series in emerging markets. As for Apple, IDC found some success for the iPhone SE with 4 inches, chosen by many users as the first smartphone and as a substitute for an Android model.
Huawei takes third place in the top 5 with 32.1 million units shipped and an increase in market share of 8.4%. The best result, however, go to Oppo (+136.6% in one year) with 22.6 million units, 13 million more than in 2015. Although Vivo increased its market share to (+80.2%), passing from 9.1 to 16.4 million units. These percentages, mainly referring to the Chinese market, could further increase in the coming months following the distribution of products in Western countries.
Samsung distances itself from Apple in the smartphone market