Samsung ATIV Q – Android & Windows 8 (All-in-one)
Samsung ATIV Q
Samsung is continuously introducing new devices and this time it was the turn of the series ATIV for laptops and tablets with the new device ATIV Q, a new notebook convertible in tablet which incorporates the operating system Windows 8 and Android 4.1 Jelly Bean . With a 13.3-inch screen you can enjoy a good laptop that also includes the Microsoft Windows 8 and it lets you run Android apps through Google Play.
Features
  The Samsung ATIV Q has a 13.3 inch screen, Intel Core i5 processor, screen resolution 3200x1800mm, graphics card Intel HD Graphics 4400, 4GB RAM DDR3L and hard disk drive 128GB SSD, 13.9 mm thickness , a weight of 1.29 kilograms and a camera able to record 720p HD video, an USB 2.0 port and one 3.0, HDMI and microSD card slot. The battery life is approximately 9 hours according to Samsung.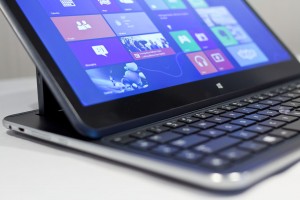 ANDROID & WINDOWS 8 all in one
 Many PC users have commented repeatedly they need to use Android apps on their PCs and Samsung wanted to offer a solution that solve this for them. The new ATIV Q allows you to use Windows 8 and Android 4.1 Jelly Bean on the same device. It can run Android applications via Google Play on a Windows laptop, users can also share folders or files and transfer the files from Windows 8 to Android.
 The new Samsung ATIV Q includes Sidesync functionality. With Sidesync the PC and the user's mobile device becomes a single system. This functionality will allow us to use the keyboard or PC screen with applications typically used on mobile devices. For example, you can use the PC keyboard to reply a mobile text message, view photos and videos that we usually have on a mobile or tablet and if you need to edit them you can change to PC mode to edit them more easily, you can use ATIV PC to make backups, etc .. It seems to be a good Android device or Windows device to many users that are running both operating systems in separated devices and now can run both only in one.