Rabbids Big Bang available for iOS and Android
Rabbids Big Bang available for iOS and Android
Ubisoft Paris studios has just announced a new adventure of its crazy rabbits for Android and iOS. Rabbids Big Bang is a touch screen adventure which promises lots of fun.
The Rabbids were created for the Wii in 2006, and they were an immediate success. The game was Rayman Raving Rabbids, probably the most absurd and crazy product from the company. Surprisingly, despite the obvious success this game had in other platforms, it had not been adapted to Android devices yet. So, this is great news! The game is finally ready for mobile gaming in a touch screen format.
In this physics-based game, you help your Rabbid to navigate in the space, driving them with your fingertips. Your abilities can save the little bunnies from a cruel death in the emptiness of the space. After you throw them into the spaces with a bat, you can control their trajectory using the jetpack and planets' gravity. All this before your fuel drain slowly…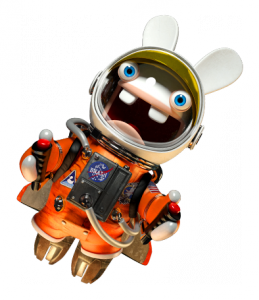 The game has 150 missions set in 10 different galaxies, where you can hit Space Cows, bounce on Space Duckies or crash into planets. As you progress into the game, the ranking system will allow you to unlock different kinds of achievements.
And of course, you can equip your Rabbids with special items or customize them with all sort of fancy dressings and complements. The classification system will allow you to upgrade your Rabbid and earn all sorts of achievements. And collect as many coins as you can across the universe to obtain the most charming or explosive devices!
The game is also designed for your children, and it includes a parental gate which prevents accidental (or not so accidental) in-app purchases.
The game is available for $1.39. You can download it from the Google Store or directly hitting the widget below: