Pressy next to touch the share $700,000
Pressy next to touch the share $700,000
– Pasquale Oliva –
With an initial estimate of $40,000 profit from the developers on the website Kickstarter, Pressy has exceeded 600,000 in last mid-September and after one month is already close to exceed 700,000 dollars.
Pressy is nothing more than a small insert able to integrate the android devices providing an important and practical customization system of functionalities.
By placing Pressy into the jack of your smartphone or tablet that supports Android system, you can set some shortcut functions that allow more practical and faster access to the services.Just imagine how long it takes just to adjust the settings, to set the flash, to enable or disable the bluetooth, etc..
With Pressy is really a matter of being an instant can turn any hot key functionality with a simple push of a button. There are several personalized combinations linked to the most common needs.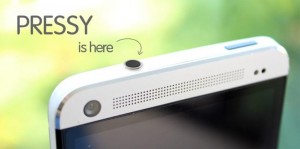 The latest innovation is the introduction of a new feature called ScreenShot Drawing by which with a simple click you can take a photo and share it on the network.Only 7 mm and long time saved, facilitating any action and obviating the technological but complex structure of smartphones.
We often want to capture a particular moment, take a picture of a moving object, record an important event, having to call someone in a hurry; small needs that are entirely met by Pressy.
It's possible to book for $ 27, being able to choose the colors from black, blue, red and white. But you have to wait a few months for shipping, envisaged only in March 2014.
A real success for developers, who have realized it through the Kickstarter platform, where you can create a project and be funded by the millions of users on the network.It 's thanks to the financial and moral support of them that it was possible to produce the device, the programmers declared.