Possible release date of Google Nexus 5 2015
From South Korea, we read that the release date of the new LG Nexus 5 2015 points closer than expected: on September 29. To further encourage the public, the report itself also reveals that the same day as the release is because Google and LG would soon be finalizing the details to launch and the distribution.
As said, this September looks now that mobile technology is going to smoke, because to the new devices that will be announced at IFA next week must be added the presentation of the new iPhone 6s and 6s Plus, that will arrive on September 9. But we must also add the arrival of the new and highly anticipated LG Nexus 5 2015, which was leaked with a possible release date for the month of September, even put up for sale.
It is well known that Google this year will go for two new terminals Nexus, instead of one as it has done normally. This time will be two phones, one manufactured by Huawei for the top model and one midrange manufactured by LG but with higher aspirations. We'll focus on the latter, since today we hear reports from South Korea where it is spoken as a date of presentation of the new LG Nexus 5 2015 and also putting them on sale. In this information, it is mentioned September 29 as the day that Google will introduce the new terminal.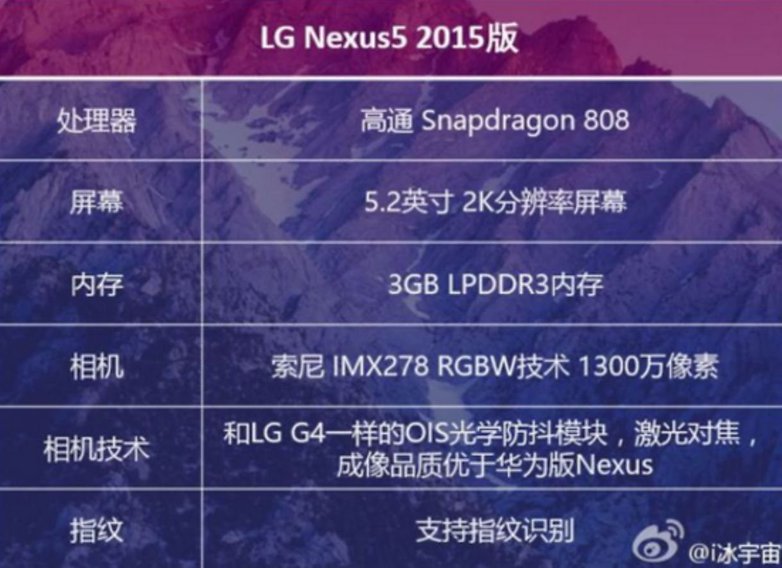 They grant the new LG Nexus 5 2015 will go on sale the same day from September 29 through traditional channels of Mountain View, or what is the same, through its online store. We can take quite seriously this date when we consider that this source revealed two years ago and also the release date of the Nexus 5. This means that in a month we could have in our hands the new and highly anticipated Nexus terminal of the Californian firm. No doubt the arrival of the new Nexus should also be the perfect excuse for this to be released with the new Android 6.0 Marshmallow that has been recently unveiled from Google.
What we have known so far are the features this new terminal could offer are it follows: Full HD 5.2 inch screen with resolution of 1920 x 1080 pixels, Snapdragon 620 processor with eight-core which four Cortex A72 and four Cortex A53. 4 GB of RAM LPDDR3 and 64 GB internal storage. A camera of 13 megapixels in the back, with RGBW IMX278 sensor, f/1.8 autofocus and LED flash. Anyway, it features a large terminal with low price, an essential fact to understand how Google wants to be accessible this time with the LG Nexus May 2015.
Possible release date of Google Nexus 5 2015