Plants vs Zombies 2 is available
Plants vs Zombies 2 is available
Finally the second part of Plants vs Zombies is available for Android. This popular game from Pop Cap produced by EA has come back with lots of new features. Crazy Dave is here again and the zombie hordes will try again to eat your brains. There are a few new plants and lots of new zombies in a travel through time.
The game is free-to-play and can be downloaded from Google Play. Plants vs Zombies 2 runs on Gingerbread devices and higher and it requires ARMv7 1.0 Ghz or higher; and 1 GB of RAM. If your device has these minimum requirements, you just need 170 MB of downloaded files.
It's been a long wait, as the version for iOS was released a couple of months ago. Some rumors said that Apple paid EA to keep the game exclusive for a while… but the Android version is finally here! This sequel finally arrives at Android tablets and touchscreens.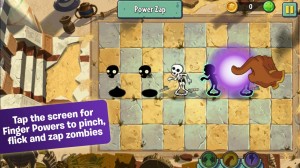 Plants vs Zombies 2 follows the steps and the style of the original, but the storyline changes and includes lots of different sceneries and quests. In this new version we have Plant Food to keep our plants healthy and some new plants with amazing defensive skills to protect our brains. You can also take on zombies from different worlds in the Piñata party mini-game to win prizes and collect coins to purchase power-ups.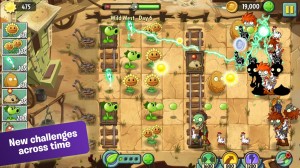 However, the most notorious change is the scenery. This sequel is not based in our home, but it travels worldwide and through time. So, we can find zombies in the Wild West and in the ancient Egypt.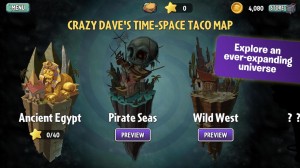 Although the game is free to play, there are lots of apps to buy which help you to get along. You can buy new plants or speed up some parts of the games for a low price.