Peugeot and Citroën also choose Android Auto
Android Auto is ready to expand itself on almost all the cars manufactured by the PSA group, and after confirming the support of six Citroën models a few days ago, Peugeot and DS brands are also providing official support to the infotainment platform developed by Google for the world of the automobile.
In recent months, the Mountain View group has chosen to make Android Auto a stand alone application that can independently run on any smartphone or tablet. In this way, you no longer have to buy a car with native technology support or a panel to integrate into the dashboard to take advantage of its features (just download it from the Play Store and install it on your device). Then, when launched, it shows an optimized interface for driving interaction, with large buttons and full support for voice commands, so as to reduce minimal distractions. A system that fits perfectly into the process of evolving mobility in connected and secure optics.
So, by buying one of these vehicles below, it is guaranteed you will see the apps in your phone synchronized with the dashboard, so that you can immediately access services such as Maps Street Traffic or Streaming Play Music. It is the meeting point between the mobile universe and the four-wheeler world, aimed at improving the experience of drivers. And every day it expands a little more.
PSA and Android Auto (Peugeot and DS)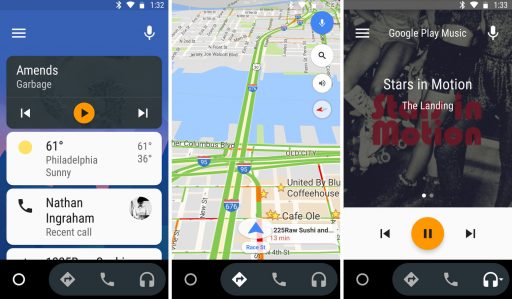 Again, and obviously, Android Auto is available only for the latest models, and those will receive the update to Android Auto or will have it as standard with the new software.
Peugeot 208 (2017), Peugeot 2008 (2017), Peugeot 301 (2017), Peugeot 3008 (2017), Peugeot 508 (2017), Peugeot 508 SW (2017), Peugeot 5008 (2017), Peugeot Expert (2017) and Peugeot Traveler (2017).
As for the DS series, the following two models are listed.
DS4 (2017) and DS5 (2017).
As always, to use Android Auto you need to have a compatible Android smartphone (practically all available on the market) and live in one of the countries compatible with Google's system developed to be used in every new car of the market.
Citroën and Android Auto
Another manufacturer that wants to be part of the companies that have so far chosen to offer their official support to Android Auto, is the French Citroën. And also confirms the first models to come to the market equipped with this technology, since this year.
C3 2017, C4 Picasso 2017, Grand C4 Picasso 2017, C-Elysée 2017, Jumpy 2017, SpaceTourer 2017 and C4 2017.