Pebble v1.14 update
Pebble v1.14 update
A few days ago, Pebble unleashed OS version 1.14. This update brings a few useful improvements to its smartwatch, such as a Do Not Disturb mode and alarm settings. This version also fixes some bugs, like Bluetooth and Caller ID issues.
The new features improve the customization of Pebble smartwatch. The Do Not Disturb mode allows the user to turn off notifications for a set period of time. The details can be modified directly from the Pebble, and you can also use the smartwatch to decide which notifications you want – just phone calls, all notifications or no notifications at all. The alarm features also offer multiple possibilities, like multiple alarms and customized snoozing functions.
Pebble smartwatch is a peculiar device that started as a Kickstarter crowdfunding with a $100.000 goal that finally became $10 million. It features an electronic paper display optimized for great viewing outdoors. So, the screen is monochromatic, which results in a great energy performance, as the battery lasts easily for 5-7 days of normal us.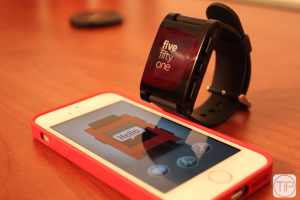 Pebble pairs with Android and iOS devices via a downloadable application. Through the app, you can choose the watch face you like (and there are a lot!) and it also push notifications from the phone to the watch. The notifications can be email alerts, phone calls, calendar events, Facebook, Twitter or Instagram notifications, weather alerts or any kind of alarm we choose.
The smartwatch can run some specially designed apps, which are growing in number every day. You can already find some apps on the Google Play Store and Apple App Store. The main feature of Pebble smartwatch is its openness and customization. It has a strong community behind; ensuring you that there will be much more to come.
You can buy a Pebble smartwatch for $150 on its website or on Amazon.
More information: Blog.GetPebble.com