Pause Watch History added on YouTube V10.18
A new update for the application for mobile devices of YouTube, the online video player, is just starting to reach devices, and it offers users a little more control over their privacy.
The latest version of YouTube adds a new option called "Pause Watch History" for users to prevent new watched videos to join the list of videos viewed. This new setting adds to an already existing option to pause the search history and two commands to clear the history of any of the lists created. We now have an easy way to keep curious minds away to discover what we see in our spare time, from children animation's videos to the most NSFW, through youtubers videos.
The tab of history viewed videos are shown in the dropdown menu, from there, go to Settings and then Privacy. Once activated, you will see that the videos will not be added to your history. The same option is also available on the web interface, on top of the History page, for quite some time. Great news is that adjusting privacy settings in one place are synchronized across your account, so that the change in one place will mean a change for each device on which you have your Youtube user.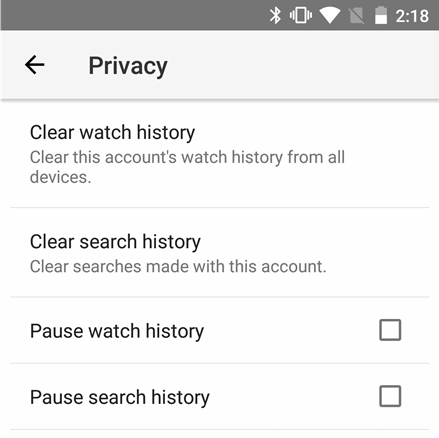 The APK is signed by Google and updates the existing application. The cryptographic signature ensures that the file is safe to be installed and that has not been altered in any way. Instead of waiting for Google to bring this download on each device, which can take days, we can download and install it like any other APK from the following link.
Filename:
com.google.android.youtube-10.18.55-101855134-minAPI15.apk
Version:
10.18.55 (101855134)
MD5:
91e9642f4f0cc9ff0d0cd5eb8444a942
Pause Watch History added on YouTube V10.18